When buildings don't work as required it can jeopardise their future and impact on users. We find long-term solutions to tackle common and complex problems; from over-heating to mould, to secure the status of your building.
We provide services to get to the root of the issue and uncover possible solutions.
Service
Forensic Building Physics Investigations
The root of a problem is not always clear. Our building physics team will visit your building and conduct a survey. This will explore the possible reasons for poor performance and any subsequent effects that this has had on the fabric of the building and other components. For older and complex buildings, this is often the best place to start to ensure that no stone is left unturned. At this stage we survey the building, using careful techniques to disturb the building as little as possible.
This can include, but is not limited to:
> Thermal Imaging
> Determining rot
> Mapping moisture and mould
> Uncovering toxins
> Assessing heat leaks
> Interrogating building services control systems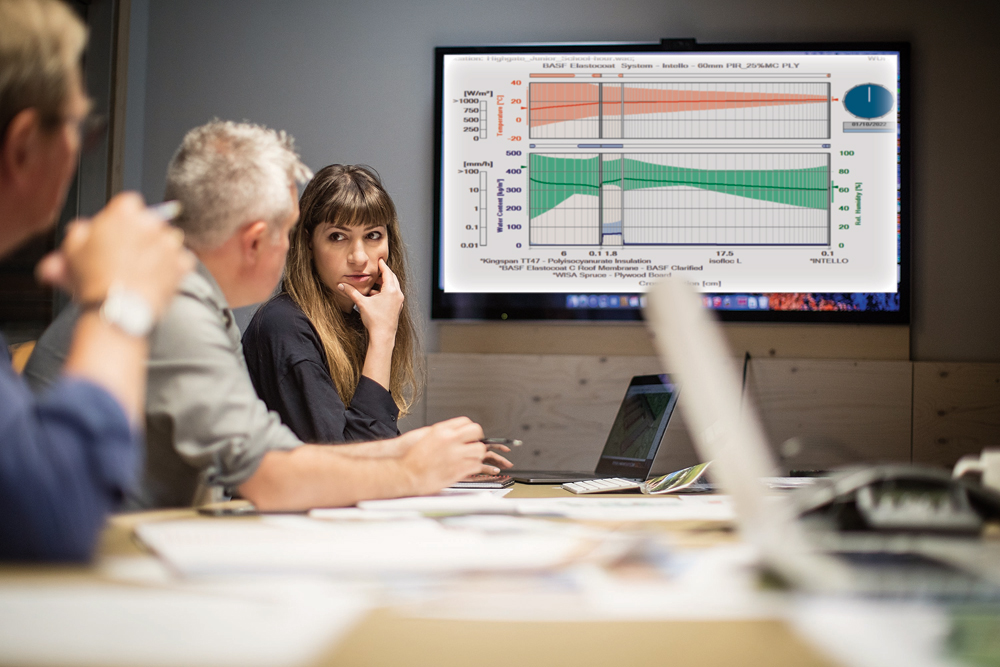 Hygrothermal Modelling
Understanding the effect of humidity on a building is an important part of investigating performance. Long-term exposure to high levels of moisture can cause damage in building components, and significant health problems for building occupants and the contents of buildings if mould is allowed to grow.
Architype have two in-house WUFI® staff, trained at the Fraunhofer Institute in Germany. We use both one dimensional (WUFI Pro) and dynamic whole building simulation (WUFI plus) in order to carry out qualitative Hygrothermal assessment.
WUFI is a Hygrothermal (movement of heat and moisture) dynamic simulation software that has been developed to assess the heat and moisture distributions for a wide range of building material classes and climatic conditions.
Thermal Bridging Assessment
What is a Thermal Bridge? A thermal bridge, or a 'cold bridge', is the area of a building fabric interface that has a higher heat transfer than its surrounding materials. With the increasing requirement to improve the thermal performance of the built environment, both new and old, the need to assess, optimise and stress test these interface details becomes increasingly important.
At Architype we use a variety of two-dimensional and three-dimensional modelling assessments and reporting tools to carry out thermal analysis and the evaluation of thermal bridges. All our analyses are carried out using the guidance set out under the BS EN ISO 10211:2017, IP1/06 and BR 497. These assessment methods calculate the temperature distributions and heat flows in building structures. This allows for improved detailed design in mitigating the risk of both condensation risk and heat loss for both new buildings and older buildings where improvement measures are being implemented.
Condensation risk assessment establishes the temperature factor (Frsi) to assess if the building structure or interface detail achieves the minimum criteria to prevent mould growth on or within the building fabric.
The coupling of these assessments ensures the detailed designs of the building fabric are stress tested to reduce the effect of localised heat losses, minimise the risk of building fabric deterioration and minimise the risk of mould growth. This will extend the life of the building and ensure the thermal comfort of the buildings end users. Take a look at our Passivhaus School Ysgol Bro Hygdden to see how we used thermal bridging assessments.
BIM Management
The BIM process provides future assurance for maintaining working, cost-effective buildings. Architype were early adopters of BIM, quickly blending it into our standard workflows and benefiting from integrating 3D and 2D design to deliver more coordinated and dynamic buildings. Although there are many benefits to BIM we understand that often the BIM process can be difficult to navigate for clients and other design team members.
Architype can guide clients to develop their BIM requirements throughout the design to handover process; advising on outputs for facilities management, use of 3D design tools to allow more client input/ engagement or for marketing, and safe guarding a collaborative process.
We can also work with contractors either in the capacity of BIM Manager or Coordinator in order to ensure a smooth BIM process. As lead designer we are ideally placed to support and facilitate a coordination and collaboration role, bringing with us a wealth of experience of the construction and design process. See Ysgol Bro Hygdden for BIM Managment on a live project.