Bridgecroft Housing Development
Archihaus Ltd
Brief
Architype was commissioned to design a scheme of 150 sustainable houses in Kingstone, Herefordshire, on a 20-acre site by client, ArchiHaus, a new locally established company with Architype's managing director, Jonathan Hines, whose vision is to transform the quality and improve the sustainability of housing in Herefordshire and the Uk.
We have worked to achieve Archihaus's vision of higher quality and truly sustainable housing:
By building to higher design quality, including Lifetime Homes, HQIs and CABE 'Building for Life' standards.
By creating more spacious and flexible plans.
By achieving Passivhaus – the most rigorous energy standard in Europe.
By creating a distinctively 'Herefordshire' architecture, and rural site environment.
Whilst there is a presumption in favour of sustainable development under national planning policy, most new housing is not actually sustainable, and in the rural areas of Herefordshire, new housing tends to be inappropriately 'suburban' rather than 'rural' in character.
In response, Architype has developed a strategy for realising this at an affordable and competitive cost:
By rethinking the design and construction of a house as a high quality Passivhaus 'product'.
By manufacturing the houses locally in a new house factory that we will help Archihaus establish.
By re-interpreting the local Herefordshire vernacular in an efficient and modern form.
Timeframe

Phase 1 / Oct. '14

Site Area

20 Acres

Construction Type

Pre-fabricated panellated timber

Costs

Total / £10,000,000

Rationale
Corresponding to the rural and distinctively 'Herefordshire' site landscape:
The site layout is rural in character, with winding lanes, ditches and traditional hedgerows, instead of suburban roads, kerbs, fences and pavements.
The layout is arranged into three distinct neighbourhoods of approximately 50 houses, set either side of a large green parkland running north south across the site.
Groups of houses and apartments are arranged around small 'village greens' in small clusters to create a sense of place.
The site layout ensures that every house and all principle rooms face within 15 degrees of south, to maximise daylight and energy efficiency, instead of the random scattergun approach of traditional developers.
The density is very low at 19 houses to the hectare, enabling generous green shared community space.
The landscape and planting will enhance bio-diversity, to replace agricultural mono-culture.
The proposed houses designed to Passivhaus, the most rigorous energy standard in Europe, are set within a landscape of winding lanes and native hedgerows, swales and wetlands, and generous green community open space with natural play, allotments and traditional orchards.
The scheme will create significant new demand for village facilities and businesses – such as the schools, which are significantly short of pupils - and will generate major financial investment for existing and new community facilities.
It has been proposed that the scheme is built gradually in phases to match the number of houses that can be sold, although it is expected that demand for higher quality sustainable houses sold at competitive prices will prove attractive to the market – and strong interest has already been shown from potential local purchasers.
The majority of the 35% socially 'affordable' houses on the site will be available as 'low cost market' for sale, with priority given to local people in and around the village. A number of small commercial and live/work units on the site will create opportunities for existing or new local businesses.
By optimising the design of the houses and the site layout from the outset to deliver Passivhaus we have been able to create houses which achieve the highest energy standard in Europe and achieve a high standard design quality, at a competitive and affordable cost.
We have:
Discovered a natural synergy between the traditional Herefordshire building forms and the optimum form for Passivhaus.
Created houses that are 7-10% larger than typical developer houses, and by their design are more generously spacious and flexible in layout.
Achieved house build quality that can cost less than £70/year to heat for a 3 bed house.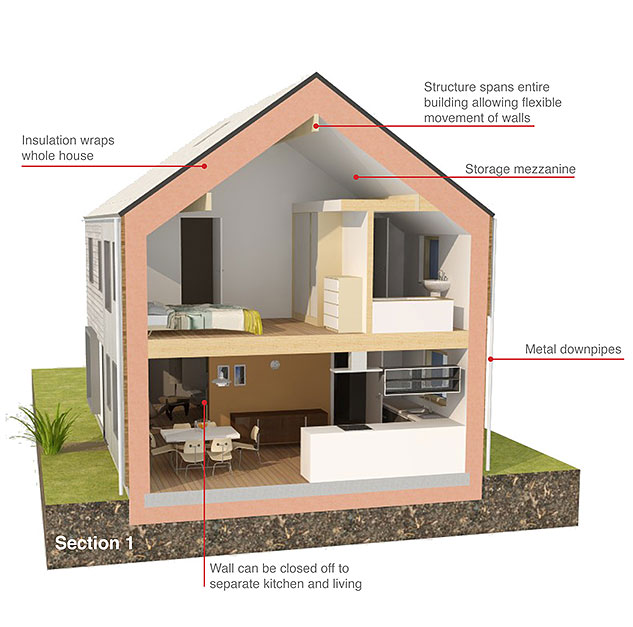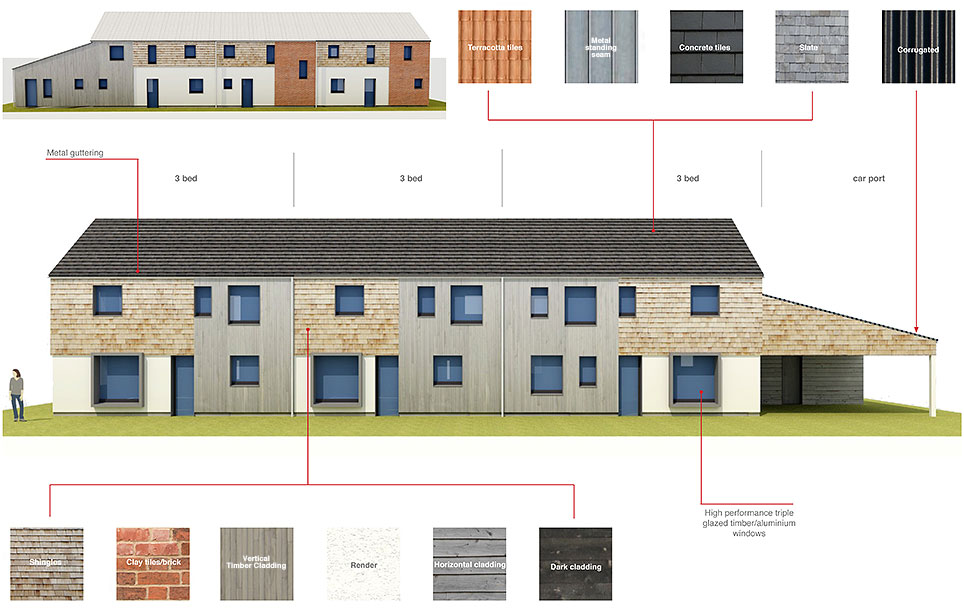 Construction Process
The key to achieving such a high standard of design and sustainability at the same price as standard housing developers, is the ArchiHaus plan to establish a local "House Factory' in the Herefordshire Enterprise Zone. Common in other European countries, house factories achieve significant efficiencies through streamlined indoor production, instead of building outside in all weathers. The factory will create around 40 new local jobs, and at full production capacity will be able to supply houses to other sites in Herefordshire and around the UK.
Results
The scheme received unanimous support at Planning Committee on the 5th June 2013 and was described as a futuristic and visionary scheme that sets the benchmark for future sustainable housing in Herefordshire and the UK.

Consultation Process
To ensure that local people had the opportunity to be involved and put forward ideas, we undertook extensive local community consultations. A number of events were held in order to engage the local community in a dialogue about the village and the site, prior to the development of any designs. These included:
A briefing to the chair of the Parish Council and local ward members.
An initial presentation to the Parish Council held as an open public meeting with more than 100 people.
Two village workshops were held to which every household in the village was invited by personally delivered newsletter, each attended by 100+ people.
A presentation to the Head and Chair of Governors of the Kingstone Academy Trust workshops with pupils at the High School and at the Primary School.
A meeting with the Kingstone Sports Association committee members.
A 2nd briefing with the chair of the Parish Council and local ward member.
A presentation of the final proposed scheme at a further village workshop.
A consultation with the doctors and practice manager of Kingstone Surgery.
Many ideas that were suggested have been incorporated – including a new cycle/foot path to create a safe connection between the north and south parts of the village, a new pedestrian crossing over the B4349, and new village allotments.
Architype Team
Project Partners
Landscape Architects

Churchman Landscape Architects

Structural Engineers

Thomasons Structural Engineers

Cost Consultants

Smith Thomas Consult

Technical Design Advice

Elemental Solutions
Accolades
Placemaking Awards 2013
Finalist
Landscape Institute Awards 2013
Highly Commended