Centre for Understanding the Environment (CUE)
The Horniman Museum
Brief
Architype's Centre for Understanding the Environment (CUE) at the Horniman Museum in South London opened in 1995, and is situated next to Charles Harrison Townsend's 1901 Art Nouveau Horniman Museum. Dr. Elizabeth Goodhew, then a curator at the Horniman, commissioned the CUE building as she wanted to raise awareness of ecology through a building with an environmental message in its design. The nearby London Wildlife Garden Centre, designed by Architype, impressed Elizabeth, who approached us with a project brief that required flexible exhibition space, an auditorium accommodating 60 people, a seminar room, office and ancillary space and an overall construction timeframe of 6 weeks.
Timeframe

Tender / Oct. '94
Completion / Feb. '95

Gross Internal Floor Area

380 sqm

Construction Type

Timber Frame

Costs

Total / £450,000

Rationale
The design concept evolved into a building that would be an exciting, contemporary feature – and in itself, be a living exhibit, promoting awareness of ecology and conservation issues. The CUE building visibly demonstrates its ecological construction and environmental strategies. We successfully created a solution with an energetic, textural, strong architectural language.
Process
The building had to be built to a very demanding timescale, achieving a water-tight shell within 6 weeks, to enable the museum to host a special event. Architype had to commission a firm of kitchen builders to manufacture the structural elements in a boathouse in Lyme Regis, as they were the only people who could manage the tight timescale, and in a space big enough to build the beams and columns. There were also sensitive planning issues and site challenges such as proximity to the Grade ll* listed museum buildings, being sited within the Horniman gardens, and the proximity of very large trees.

Results
CUE was ahead of its time, with an environmental rigour that anticipated the transformation in sustainable thinking. Built from sustainable timber, CUE is insulated with recycled newspaper and finished with organic paints and stains. A natural passive ventilation system is routed through large section hollow prefabricated timber beams and columns, integrating structure and services. The building collects rainwater and recycled greywater through reed beds whilst photo-voltaic cells and solar collectors generate electricity and heat water.
The original green roof is still growing despite fluctuations in plant biodiversity due to climate changes, roof microclimates, bird and wind plantings. Fauna is also abundant - British entomologist Richard Jones found over 50 species of insect.
CUE is a wonderfully light, airy space. Glass walls and picture windows create a fluid relationship with the Horniman's 16-acre garden. CUE also demonstrates the tactile and sensory qualities of ecological building, where organic paints and natural materials with a variety of textures and finishes stimulate our sense of smell and touch, and colours based on natural pigments create a harmonious visual finish. The building has proved highly adaptable and now houses the Horniman's rich library.



A radical and innovative construction system was developed for the building, comprising a large pre-fabricated timber structure of hollow triangular plywood box beams, glulam and plywood columns and stressed skin floor and roof panels, which act as the natural passive stack ventilation ducts. This enabled the fast construction time to be achieved, and allows the structure to be potentially disassembled and reassembled in future. A series of air dampers within the columns and beams operated by a simple building management system control the extent and quantity of air movement through the building.
The roof consists of a ply box or 'cassette' containing insulation, with a ventilated void above it. A waterproof membrane was used on top of the plywood deck. This would ordinarily have a lifespan of more than 50 years on an exposed roof, but under a living roof it is protected from heat and UV damage by the vegetation, thus prolonging its life. A felt layer was placed on top of the waterproof membrane, and a wooden batten grid was then placed on top of the felt layer in order to stabilise the sub-soil – especially on the steep slopes.
Over time the batten woods rot, but by then the plants have rooted and matted together, holding the soil in place. Low nutrient soil to a depth of 100mm was used in order to benefit the greatest variety of wild flowers – high nutrient soil encourages robust types, which crowd out smaller, more delicate species. A layer of coir matting was then placed onto the soil before the grass turf was laid. Wildflower plugs were planted into the turf and a regular mix of wildflower seeds was scattered generously on top.
An integrated water system collects both rainwater and greywater from washbasins, cleans it through reedbeds, and stores it in ponds both for re-use in the building, and irrigation of the green roof.
The roof irrigation is operated by a solar powered pump, which creates an evaporative cooling effect when the sun is out. Subsequent construction of a new extension adjacent meant this system was no longer operable.
A ten-year survey found that the roof has developed into a species-rich grassland, supporting a number of plants notable to London, including white ox-eye daisies, cowslips, meter-high meadow grasses, pansy, musk mallow, wild carrot and mosses. Upkeep of the roof has required minimal intervention, and it continues to prosper, requiring only occasional watering. Fauna biodiversity is also great, and British entomologist Richard Jones found more than 50 species of insects from the smallest species of ant to Britain's largest hoverfly.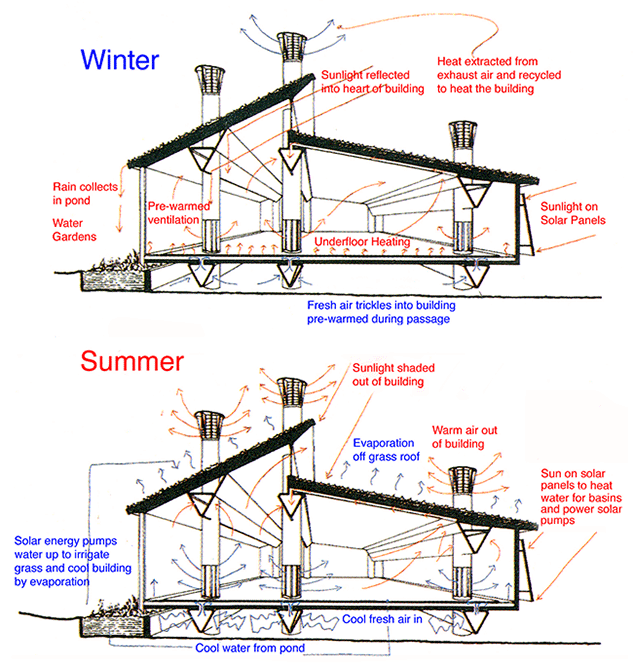 Project Partners
Structural Engineer

Stuart Richardson

Services Engineer

Michael Popper Associates

Structural Prefabrication & Erection

Case Construction

Main Contractor

Hotson Ltd
Accolades
Green Building of the Year Award 1997
Civic Trust Award Commendation 1998
Featured in the Architecture Club's '50 Years of London Architecture' exhibition 2010