Christ Church Central
Christ Church Central
Project Outline
Originally commissioned to undertake the feasibility study in 2011, Architype has since gained planning permission for a new building to replace the existing HQ of Christ Church Central, a growing church organisation known as 'Central'. Key issues that have been addressed through the new design include; the need to accommodate a far larger number of people in a main hall, a high degree of flexibility, a building that was sustainable (in terms of energy use, maintenance, flexibility, and materiality) and the desire to make the most of a busy and well-connected location in the heart of Sheffield City Centre with a welcoming building that embodied the vision of the church.
Rationale
Christ Church Central call themselves 'a church for people who don't go to church' with a mission to take the 'gospel of the Lord Jesus Christ to people in Sheffield who don't yet know him'. They describe their ethos as 'Reformed, Evangelical, Protestant and Anglican and aim to make Orthodox Christianity accessible, understandable, relevant and available to everyone'. As such, the church feel strongly that a new building is characterised by being open and welcoming to all.
Our design strikes a careful balance between a landmark street presence, and a serene, simple form that expresses its identity through materiality and form, rather than the use of overt symbolism.
Timeframe

Planning Secured / Jan. '13

Gross Internal Floor Area

1,114 sqm

Construction Type

Timber Frame

Costs

Total / £3,000,000

Process & Results
Architype has worked closely with Central to gain an understanding of their ethos and vision, including spending time in the existing church attending worship sessions and meetings with the church family. A key aspect of Architype's approach is to discover, through consultation, the character and personality of an organisation and to then explore, through a conceptual design approach, ways of expressing this.
The new building will be super low energy, full of natural light and visually permeable to express a sense of welcome, and a positive new addition to the life of the city. Inside, the building is characterised by a low embodied energy timber structure and finish, and maximum attention is given to acoustic separation between varying spaces holding worship, singing, study and contemplation. Casual seating areas, stepped levels, window seats and niches run through the building, perfect for informal meetings, discussion, reading, and study. Carefully positioned windows create framed views that connect the life of the church back to the city.
Consultation Process
We have undertaken observation days and participated in typical activities in the church over different days including; playgroup (Ripples), youth groups, international evenings and Sunday services. Our findings and outcomes have been presented to the church family as a whole with detailed consultations with a group of key members of the church family have helped to build the vision and aspirations of the church body. Regular meetings with the Project Group/Design Team has developed a synergy in the design process and has aided our ability to integrate the Passivhaus requirements from first principles.
We have also held church family/local residents drop-in events and a display of the scheme currently sits in the church for viewing by the church family.
The building's environmental design has been developed by Architype's in-house team of certified Passivhaus designers, to help meet our client's high environmental aspirations.
The building has been designed to meet the Passivhaus standard and minimise energy in use. An MVHR (Mechanical Ventilation and Heat Recovery) system will provide energy efficient ventilation in summer and winter. The building will also allow natural ventilation in the summer to cross ventilate all spaces and cool them at night if required.
The external fabric of the building will be highly insulated with excellent airtightness and minimal cold bridging to reduce heat loss. The clear and simple form of the building minimises the surface area to volume ratio to further minimise heat loss. Large openings are concentrated on the south façade at high level to ensure maximum daylight throughout the building and passive solar gain in winter, and mitigate the impact of potential future development on neighbouring sites.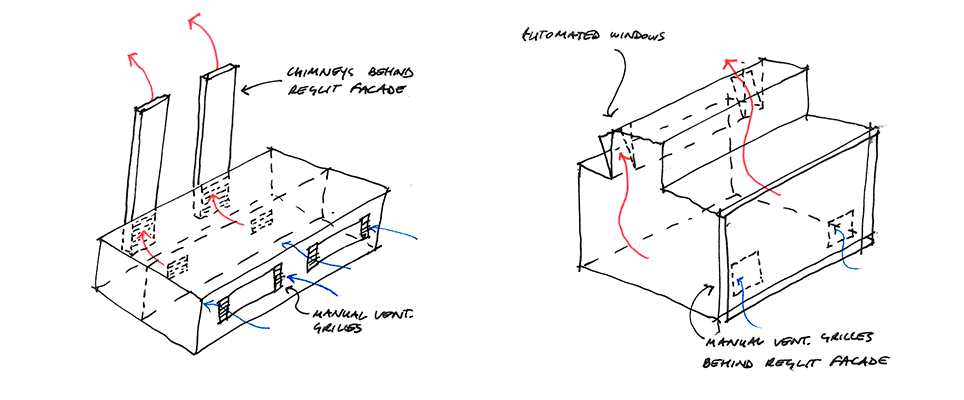 We have specified self-finished materials with low embodied energy, and excellent durability including reclaimed local brick with lime mortar jointing for durability and future re-use; timber both as structure and external cladding; and concrete with a high GGBS content.

Architype Team
Gareth Selby
Mark Parsons
Project Partners
Structural Advice

Built Engineers

Acoustic Advice

Blue Tree Acoustics

Cost Consultant

Gordon Hutchinson
Accolades
The UK's first Passivhaus Church