Coed-y-Brenin Visitor Centre
Natural Resources Wales (formerly FCW)
Project Outline
Architype has completed a £1.2 million extension to the iconic Coed-y-Brenin Forest Park Visitor Centre that has almost doubled its size. Architype were appointed by Forestry Commission Wales (FCW) to design an exemplar building utilising Welsh grown softwoods. In the South Snowdonia National Park, the new building is linked to the current visitor centre by an overhead bridge and has been built using a revolutionary construction technique, Brettstapel, that could open up an exciting new market for Welsh timber.
The building, which was completed in June 2013, has been made entirely from home-grown timber and sets high standards in energy efficiency by using high levels of insulation, excellent airtightness and natural light. The 400m2 extension includes a new bike shop and hire facility on the ground floor, with a multi-functional conference/meeting room and cafe overflow area and much needed 24-hour access public WC's on the first floor. The additional accommodation will help to serve the soaring visitor numbers, which attracted 150,000 visitors in 2013 following a record-breaking summer.
Timeframe

On Site / Sept. '12
Completion / Jun. '13

Gross Internal Floor Area

400 sqm

Construction Type

Brettstapel Timber

Costs

Total / £1,200,000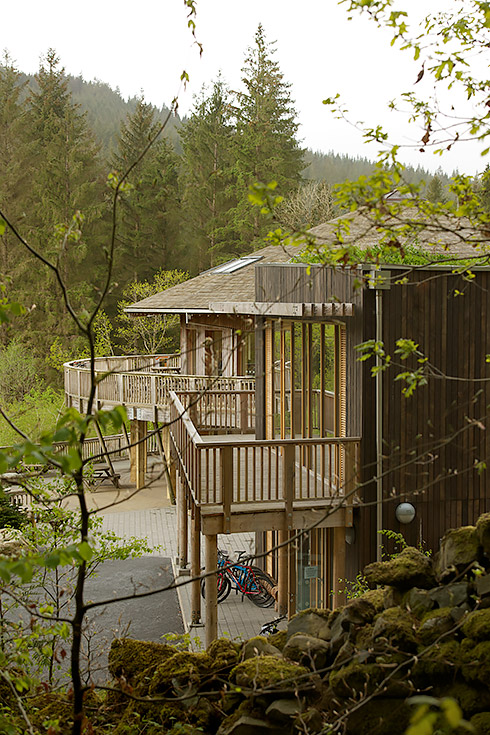 Design Aspirations & Key Principles
A number of aspirations for the scheme were developed by the design team, and which also incorporated feedback from consultation. These included:
Showcase for Eco-Minimalism.
Simple yet elegant solutions.
Cost effective but not 'cheap'.
Fully inclusive facility for all ages and abilities, make the 
existing building easier to use.
Innovative use of Welsh timber as far as practically possible 
and economically viable, to include structural and non structural elements, using techniques that could be repeated on future projects elsewhere.
Healthy building with excellent day lighting and ventilation.
Durability externally and internally; will need to withstand heavy 
use for many years to come.
Special character of the location should be preserved and 
enhanced, and acknowledged in choice of materials.
Provide extended covered outdoor spaces.
Minimise impact on trees and surrounding landscape.
Simple operating controls and monitoring.

Building Design Concept
The concept behind the design of the building was derived from feedback from the consultations, the design aspirations and as a response to the site and the location of the building.
 Both elements, the new building and the entrance extension of the proposal were designed to integrate and sit comfortably next to the existing building whilst being distinct from it. Both have an elegant and simple form and take inspiration from the forest and landscape.
The new entrance extension acts like a limpet, hugging the existing building and protruding from below its eaves. Its shape follows the curve of the external wall of the existing building.
The new building sits separately from the existing building, its two story form is partially dug into the ground and follows the direction of the contours of the hillside. Its form is simple, it emerges out of the landscape, to the north it is closed up and sheltered, to the south it opens up to make the most of the far reaching views and natural daylight.

Brettstapel
Brettstapel, literal translation 'stacked planks', is a solid wood panel type pioneered in Germany which uses either nails or wooden dowels to fix parallel softwood lamellae together to form structural panels. Hardwood dowels 'super' dried down to around 6-8% moisture content (MC) can be used with lamellae of considerably higher MC so that dowels absorb moisture from lamellae thus expanding and locking them together.
Several lamellae are clamped together and drilled right through at right angles using an auger 0.5mm smaller than the dowel finished size. Dowels can be inserted simply with a heavy hammer. To speed up the process hydraulic or pneumatic equipped assembly lines are used.
This type of panel is anisotropic and behaves in a similar manner in expansion as would a large panel cut from solid timber, it is unlike cross laminated timber (CLT) panels which are restrained like plywood by the cross-tying action of orthogonal layers. However, because of the parallel alignment of lamellae (and therefore fibres) Brettstapel panels may perform better structurally than CLT structurally both as diaphragms and shearwalls; under compression Brettstapel can take up to twice the loading of similar sized CLT panels (Smith, 2013).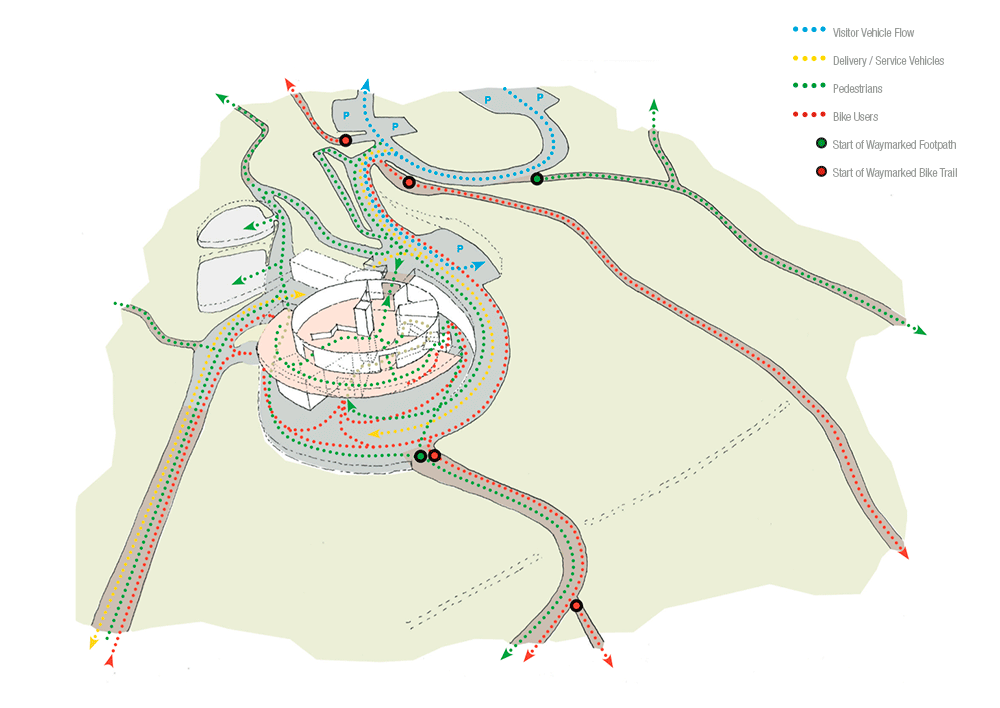 Brettstapel
The brief provided by the FCW requested that the building should be a showcase for Welsh timber and timber products, using an innovative construction method and Wales' huge stock of low grade, fast growing softwood, Larch and Sitka Spruce. After researching timber frame construction methods that use low grade softwood Architype selected the Brettstapel construction method to be appropriate for the proposed buildings. The Brettstapel technology originates in Germany but this is the first time that structural grade timber components have been created from timber predominantly produced in the UK. The technology involves using short lengths of softwood held together with hardwood dowels which swell and tighten the resulting panel into a massive timber, load bearing wall or floor.

Architype Team
Project Partners
M&E Engineers

E3 Consulting Engineers

Structural Engineers

Integral

Cost

Sweett Group

BREEAM

Halcrow Yolles

Contractor

Pochin Construction Limited
Accolades
Winner of the Highly Commended prize for Sustainability at the Constructing Excellence Wales Awards, 2015