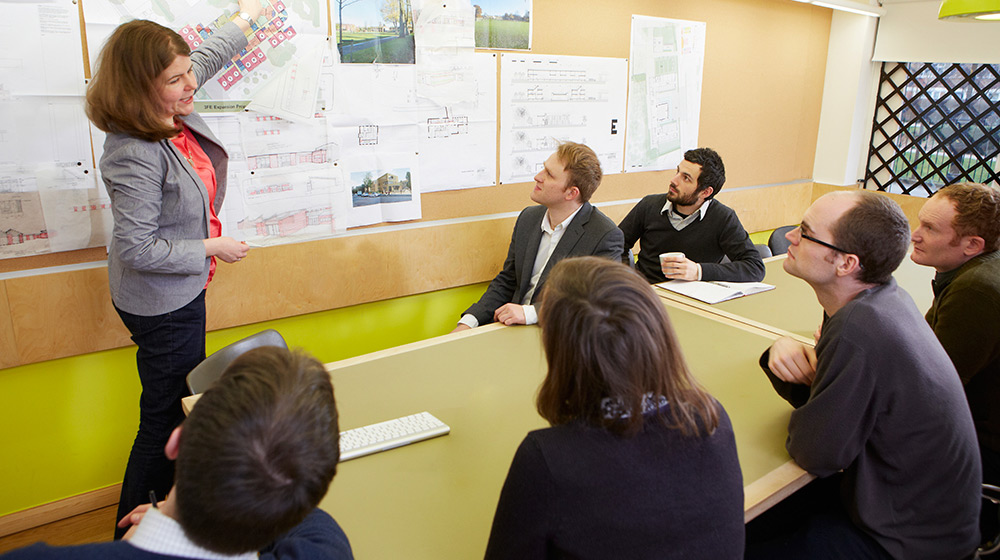 Introduction
Architype offers environmental consultancy and research services to a range of clients. Our specialisms include embodied energy analysis; Passivhaus design consultancy; eco materials and component specification; building performance evaluation and post occupancy research; and we will soon be launching our groundbreaking early stage cost and carbon analysis software, Rapiere.
Embodied Energy Analysis
It is not enough to concentrate solely on operational carbon. At 50-60% of lifetime emissions, reducing embodied carbon is crucial. We have an in-house team of embodied energy experts, who have devised and developed a suite of analysis tools to reduce embodied energy. We are providing this expertise as a service to other consultants. Examples include:
Embodied Energy Consultants to Aedas on a £150m package within the Masdar Eco-City project, a demonstration city showcasing new sustainable technologies. Architype developed alternative materials specifications to reduce embodied carbon. Outputs included embodied carbon studies; KPI diagrams, materials analysis and database; outline specifications for each plot; comparison of structural systems.
New University Enterprise Centre designed to one fifth of the embodied energy of a standard university building. Our £8m new building will be a showcase for local supply chains, including monitoring and evaluation of locally sourced materials and techniques.

Key Performance Indicator Analysis for Potential Roofing Materials on the Masdar City Project

Rapiere
Rapiere is our new embodied energy and lifecycle cost calculator, ideal for architects, engineers, cost consultants, developers, and investors. The unique new software tool brings huge added value to client teams, as it provides rapid analysis of energy both in use and embodied, alongside the cost of any proposed building project – at the early concept stage.
Developed for ease of use, including on ipads and smartphones, Rapiere is a cloud based application, which provides immediate results, graphic clarity, depth of information, and when officially released, will have a retrofit plugin and will be interoperable with Sketchup.
Rapiere is the result of a collaborative Research & Development project, part funded by the Technology Strategy Board and private vested interest, and captures the combined expertise of four industry leaders in sustainability – Architype, BDSP, Greenspace Live and Sweett Group.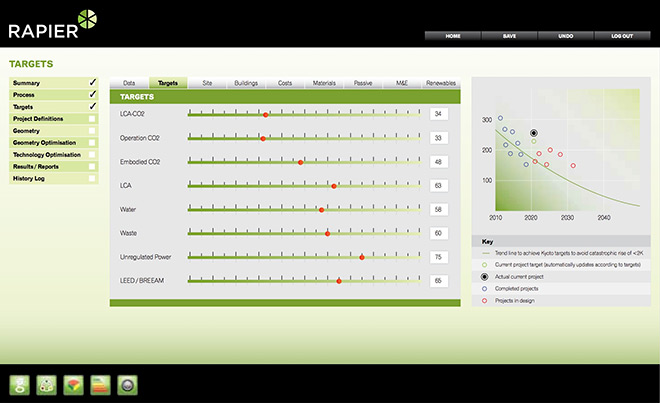 Passivhaus
Architype is leading the UK Passivhaus movement, with four certified Passivhaus schools, a Passivhaus Archive, Church and University building, several PH housing schemes on site and in for planning, and a range of visitor and education centres.
Passivhaus is the most rigorous energy standard in Europe, and is a future-proof, fabric-first approach that delivers buildings that truly work and are lovely to be in. Passivhaus buildings are extremely comfortable with very high internal air quality, and typically achieve a 75% reduction in space heating as compared to standard new buildings.
We have 6 certified Passivhaus Designers, and offer these skills as an integrated service, or as a stand alone consultancy. Our services cover:
Early design advice
Passiv-Haus Planning Package (PHPP) modelling to ensure heat loss from building is minimised and appropriate fabric is selected.
Correct orientation of the building in order to make the most of solar gain & control overheating.
Rationalisation of building form to produce a simple, elegant building that just works.
Window positioning & optimisation to ensure excellent daylight, ventilation (to reduce energy use) and make most use of the sun's heat & the economic positoning of shading devices.


Oakmeadow Primary School
Detail of external wall and insulated concrete slab: Contruction detail and therm model analysing thermal bridge.

Detailed design advice
Continued Passiv-Haus Planning Package (PHPP) modelling to ensure heat loss from building is minimised & for certification if required.
Thermal modelling of complex details in order to prevent heat loss & condensation.
Air-tightness detailing advice, ensuring a building will remain air-tight even after adhesives & tapes have past their design lives & reducing build time on site by avoiding costly mistakes.
'Tool box' talks enabling workmen to understand and achieve complex details across the whole building.
Mechanical & Electrical design advice, ensuring efficient & economical layout of building services in order to increase operational efficiency.
Specification of efficient fixtures and fittings to reduce the electrical consumption of the building & thus reduce Primary Energy consumption.
Material selection analysis to optimise the choice of local & sustainable materials with low embodied energy.
Whole building carbon analysis examining the complex build up of individual materials carbon footprints, including transport, manufacture & installation via our industry first Rapiere carbon tool.
'Breathing Construction' advice and detailing strategies allowing water vapour to leave the building through use the of hygroscopic materials.
Post Completion Support
Remote or site based commissioning advice to ensure all systems are running as expected.
Building environment monitoring (CO2/heat/humidity) to enable optimisation of the internal environment.
'Soft Landings' (extended handover service) dealing with building users to guarantee user satisfaction.

Building Performance Evaluation and Post Occupancy Research
Monitoring and performance evaluation is one of the built environment industry's biggest knowledge gaps – Architype's evaluation and analysis expertise brings huge added value to client teams.
Architype worked with Oxford Brookes University on a 2 year Knowledge Transfer Partnership (KTP), to assess the environmental performance, usability, and user experience of our buildings through Building Performance Evaluation (BPE), Post-Occupancy Evaluation (POE), and Soft Landings. The KTP was very successful and has enabled us to develop an evidence-based understanding of how our completed buildings are performing, compared with their initial design targets and predictions.
Architype has recently completed a suite of Techonology Strategy Board (TSB) funded Building Performance Evaluations on two of our schools, an urban and a rural school, including assessments of energy use, C02 ventilation rate, in-use concentration studies, and fabric quality via thermal imaging. Results provide actionable evidence and up to the minute data for the design and construction team, the users, and wider industry.
On every project, Architype strives to adopt the Soft Landings approach to delivery, enabling occupants to understand how to use the building for optimum performance. We offer this to all our clients as an additional service to any project architecturally designed by Architype. We are able to tailor our Soft Landings package into a varying level of detail to match our clients requirements. This may purely involve advising the building manager on operations and functions, to more detailed training to all users of the building.

Architype Team
Gareth Selby
Jon Ackroyd
Tom Mason