Creative Media and Training Centre
London Borough of Southwark
Project Outline
Architype's ambitious sustainable refurbishment brings back to life a derelict Victorian library in Southwark, transforming it into a contemporary creative media and community training centre with state of the art facilities that provide free courses for disadvantaged and unemployed young people.
Client's Brief
Working closely with Southwark Council, we developed a brief to reconfigure the historic structure into a new community facility, and an iconic sustainable scheme. Our design preserves the building's character, whilst incorporating a series of contemporary architectural extensions that offer the centre flexibility for their complex multi-use requirements.
These include a new third floor pavilion (accommodating office space), new circulation core, a dramatic full height atrium and a curved timber clad pod - The Wrapper.
Timeframe

Completion / Jan '08

Gross Internal/External Floor Area

1,300 sqm

Construction Type

Renovation & Extension

Costs

Total / £5,500,000

Rationale
An important aspect of the project was to offer the clients and users a design that not only provided environmental sustainability, but also social and economic sustainability. A business proposal was drawn up alongside the designs - a process which involved a close working relationship between Architype and the Southwark Bridge Road Programme Business Team to ensure that the design complemented the business plan and vice versa. We work regularly with trusted business consultants, including those with local knowledge to bring key expertise to our study, providing advice and tools to measure the viability of both our clients' vision and our design proposal.


By working with the education team to provide adequate training facilities, the local community to achieve their aspirations for community facilities, the management body to ensure their commercial interests were covered and the over-arching client body to ensure the overall scheme aligned with their intentions of a sustainable building that reduced energy running costs, we were able to create;
a flexible building that accommodated a broad range of uses with little modification
a building that catered for a mix of users at the same time
maximum use of space by the community users during any downtime of training use i.e. holiday periods
a strategy for building technology to best achieve objectives.

Challenges
Delivering this project brought about a number of challenges for the design team due to the complexity of the site. The building sits on the corner of Southwark Bridge Road and Union Street in a tight urban location with no space for external construction equipment. Therefore the design needed to take this into consideration and the final concept scheme ensured that the majority of extension work could be carried out from within the existing building limiting the amount of external work required.
The building also sits within the Union Street Conservation Area and upon remains of a Roman burial ground, which required an intensive amount of archaeological input.
Sustainable Refurbishments
The building, designed to a rigorous environmental agenda, uses natural stack ventilation, with the atrium providing a combination of wind driven and stack effect extract ventilation, through BMS controlled Passivent grilles located on the façade under new high performance sash windows.
A low carbon heating system uses a KWB wood pellet boiler, underfloor heating and solar panels provide hot water - it is predicted the building will achieve approximately a 60% reduction in carbon emissions over an equivalent fossil fuelled, fully air conditioned building. The concrete in the building is all 50% GGBS, and all timber is FSC or PEFC.
Renewable energy has been central to the development of the scheme, with the integration of a biomass wood pellet heating system, a vertical axis wind turbine and solar thermal panels.
The complex refurbishment of this early 20th Century building was identified as a key local feature, both in appearance and historic value, it was therefore essential that our proposal did not compromise the character. Our response developed a non-pastiche, distinctly modern yet complementary relationship with the original building; window sizes and locations were mirrored in the modern extension and material colours matched. The result truly reveals the history of the building whilst retaining its integrity.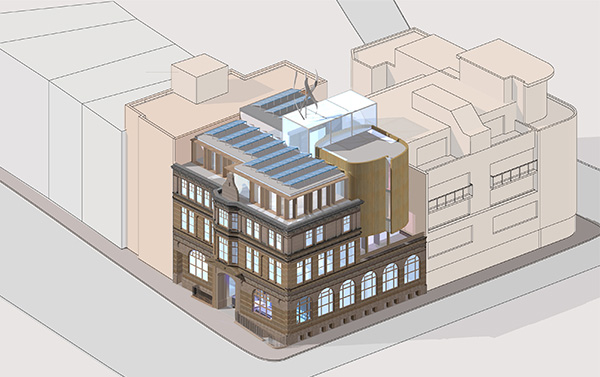 Consultation Process
During the Southwark project, we dedicated focused time to consultation and observation with the local community. This helped quantify the value of the building within the community, revealing unanimous support for the project.
The key users of the creative arts and media centre had a range of requirements we needed to address in terms of accessibility. Additionally there was also a requirement that part of the building be designed for commercial use to generate income as well as after hour community use. Our consultation sessions for this project included various authoritative heads, such as Friends of the Borough Community Care, Diversity Panel, local TA's, schools, youth groups, local residents and voluntary organisations. All contributed to the overall vision for the project, with Architype leading the session using a range of tools and techniques to allow people to articulate their ideas and understand the existing brief.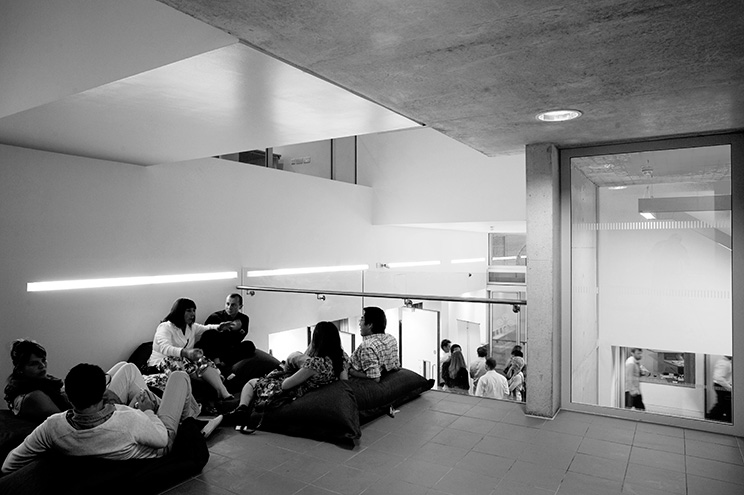 Architype Team
Mark Parsons
Dan Usiskin
Jeanie Chang
Project Partners
Contractor

AJ Contracts Ltd

Quantity Surveyor

Gordon Hutchinson

Structural Engineers

Trigram Partnership

M&E

XCO2

Contractor

Vinci Construction
Accolades
Selected for the '50 Years of London Architecture' Exhibition