Currie Community High School
Scotland
Timeframe

Estimated start / 2022
Completion (Phase One) / 2024

Gross Internal Floor Area

12749 sqm

Status

RIBA Stage 3
Project Outline
Currie Community High School is leading a new generation of zero carbon schools in Scotland that welcomes the community onto its campus, with a public library, swimming pool and allotments sitting alongside flexible, healthy learning spaces.
Developed in close collaboration with the local community and with innovative voices from the education sector, the 1,000-pupil high school will pair Scotland's progressive approach to pedagogy together with zero carbon design to deliver the first Passivhaus secondary school in Scotland.
At Currie, Architype's team is marrying together architectural and interior design to create a mix of campfire, watering hole and cave spaces throughout the school. A progressive vision of how a contemporary school should look and feel, this mix of social and retreat spaces is tailored to modern teaching and learning needs - and the individual wellbeing of each and every student.
The design will be rooted in the surrounding Edinburgh landscape with external cladding that echoes the raw power and texture of the Pentland Hills and a Passivhaus approach that will ensure the building itself is a working example of the city's bold sustainability goals.
The campus will become a vibrant community hub for the Pentland district. The civic project includes a wellness centre, a new leisure centre with a fitness suite and one of the UK's first Passivhaus swimming pools, with a community library and a café connecting these areas. Plans also include an outdoor hub that features informal play spaces alongside a sensory garden and public allotments, with school spaces designed to open up for general use out of hours.
Learning spaces in the three-storey teaching block include laboratories, food technology and performance areas for the creative arts. Light, social areas will be punctuated by private nooks and breakout spaces shaping a sense of connection and activity throughout the building, while learning spaces also will extend outdoors to the campus' gardens and outdoor terraces. The scheme is engineered to create community and intergenerational interactions, becoming a place that the whole neighbourhood truly feels is their own, from parents and teenagers to lane swimmers.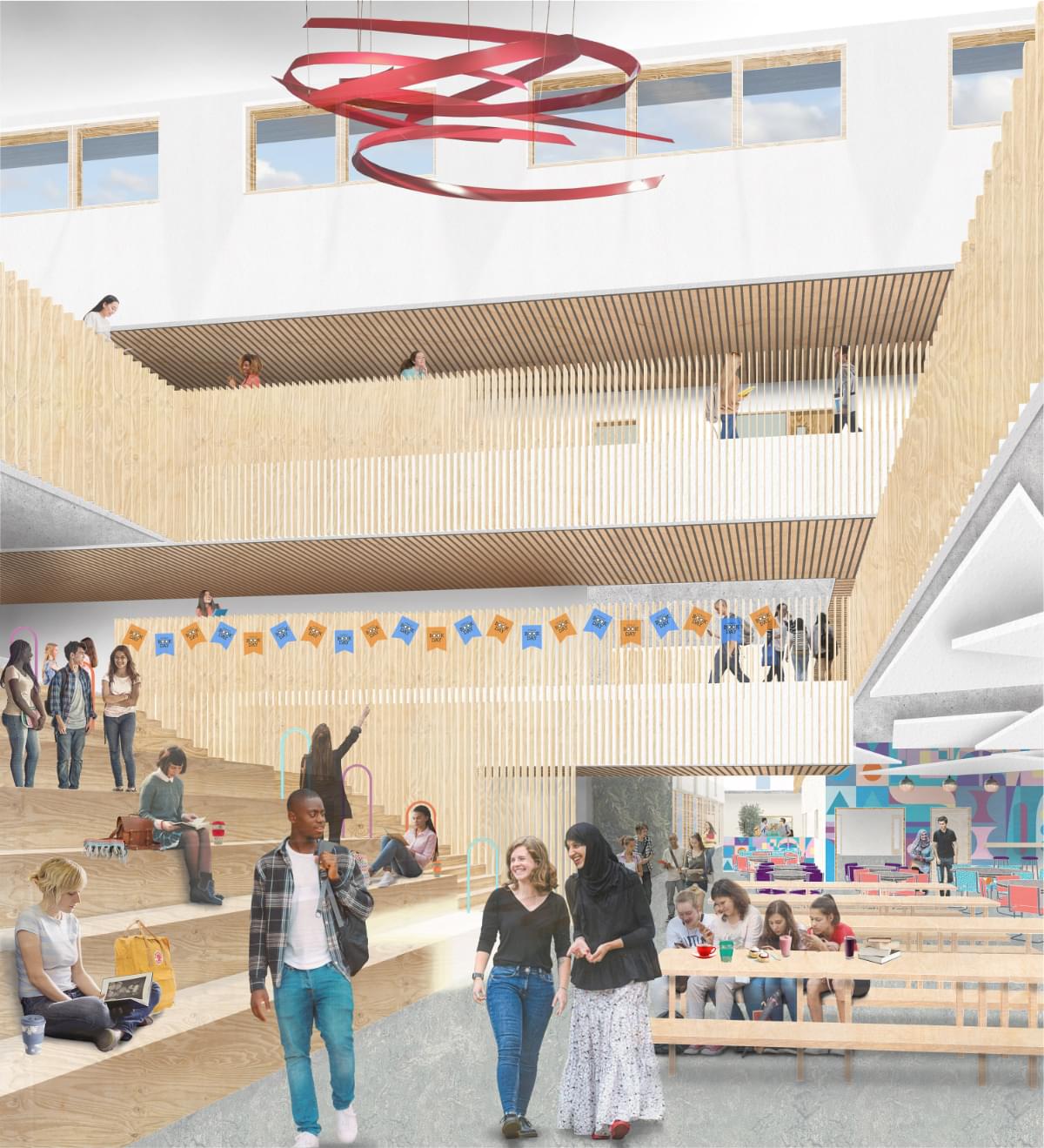 One of the first developments in the Scottish Futures Trust's Learning Estate Improvement Programme, it will meet strict energy requirements that are linked to school funding. The demanding energy target will be met through rigorous Passivhaus certification, the only independent 3rd party quality check on buildings through design and construction. Architype is also using in-house ECCOLab software to monitor the building's embodied carbon impact as the design develops.
Healthy, inspiring spaces for the whole community
With construction set for a 2022 start, the £48m school will provide Currie's young people with learning spaces that bring the most out of them.
Like Harris Academy, Sutton, internal spaces will be full of daylight, and healthy, natural materials. MVHR units also complement a design that delivers exemplar levels of air quality, improving young people's concentration and impacting on health and wellbeing.
Exemplar low energy design
The high-performance design will deliver significant reductions to both the school's running costs and its impact on the climate. The new school is designed to achieve beyond the Scottish Futures Trust energy target of 67kWh/m2/year. The brief was to take on Edinburgh's goal to be carbon neutral by 2030, while at the same time helping socio-economic sustainability in the area.