Cwm Ifor Primary School
Caerphilly County Borough Council
Project Outline
Cwm Ifor Primary school has been designed by Architype in partnership with Caerphilly County Borough Council (CCBC) Building Consultancy as part of the 21st Century Schools Programme. Architype led the design of this new build 1.5 form entry primary school to RIBA stage D, including in-depth client and user consultation, CCBC Building Consultancy then led from Stage E.
The flexible plan of Cwm Ifor Primary School provides a very much learner-oriented design, with a greater emphasis on informal learning areas and the elimination of traditional corridor spaces.
Timeframe

On Site / Sept. '11
Completion / Oct. '12

Gross Internal Floor Area

2,065 sqm

Construction Type

Timber Frame

Costs

Total / £4,100,000

Located in a socially deprived area of Caerphilly, the new school facilities have been strategically located on the school grounds to encourage people from all around to take pride in the facilities and increase attendance at the school.
The brief placed emphasis on the need for the design to embrace the school's culture and ethos of community and support. The timber frame solution incorporates a large open plan dining/café/performance social space at the heart of the building which opens up to the adjacent hall, increasing its capacity for school performances and activities. Arranged off this the central space are four wings accommodating the foundation stage, infant, junior and staff administration facilities.
Incorporating Flexibility
Through extensive consultation, Architype arrived at a radical layout which is unique compared to traditional classrooms off corridors for 'Stand and deliver' education. The scheme adopts a smaller class size with shared hub spaces, breakout spaces, outdoors classrooms, inhabitable walls and nooks for various learner directed activities with small groups and one-to-one sessions.
Sliding doors and folding partitions between spaces feature heavily allowing for multiple arrangements of different sized spaces, including opening up the classrooms to the outside for indoor/outdoor learning.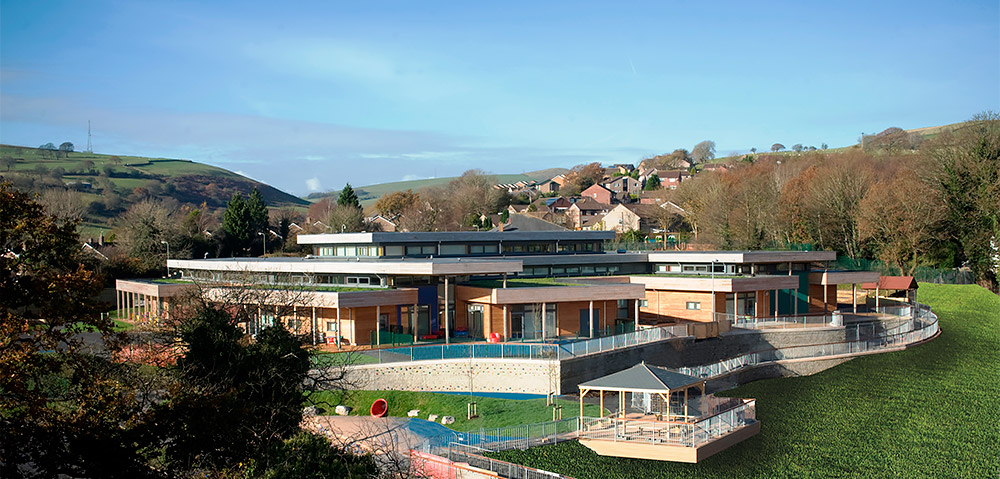 Sustainable Design
Architype's eco-minimalist approach rejects the need for complexity and largely focuses on careful analysis to develop effective solutions that significantly reduce energy consumption through robust, simple design and detailing.
In partnership with Caerphilly County Borough Council Building Consultancy, we have applied our simple design principles that enable the architecture to do the hard work in saving energy and reducing its environmental impact. The building shape, form, section and orientation are designed to achieve useful solar gain and to control solar overheating. High performance triple glazed windows and elimination of thermal bridges through excellent detailing have helped to achieve a low airtightness value.
The entire school is naturally ventilated, with minimal extraction in the kitchen and toilets. Careful M&E design reduces system energy losses and water consumption. Lighting levels are achieved by exceptional levels of natural daylight and when required, low energy efficient lighting.
A simple palette of sustainable, low-embodied energy materials has been specified which includes a timber structure, cladding and joinery and recycled newspaper insulation. The finishes use non-polluting manufacturing processes and include non-toxic organic paints and stains made from natural oils, resins and pigments. Floor coverings are from a choice of cork, recycled tyre matting or linoleum flooring made from linseed oil and jute.
Where appropriate the selection of materials has been considerate of their social impact e.g fairly traded. Local materials have been given precedence such as Welsh timber, Welsh Warmcell insulation and local sandstone paving.
The roof, with differing levels, houses a green sedum cover to increase and maintain bio-diversity in the area. It also holds as a strip of solar panels for renewable energy generation.
The scheme achieves BREEAM 'Excellent' through a robust palette of natural materials, off-site timber closed-panel construction, meadow grass green roofs, untreated UK timber cladding, high levels of insulation, natural lighting and ventilation and on-site renewable energy generation with an innovative roof membrane integrated PV system.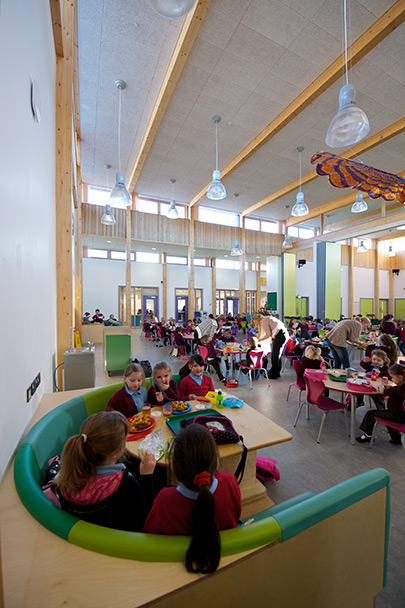 Inclusive Design
Architype undertook a comprehensive consultation process over several months at key stages of the initial design development. In particular we aimed to engender a genuine sense of ownership by involving the whole school community in the design, its progression and the overall educational agenda. The consultation process setup an opportunity to define a clear pedagogical vision to inform the design and reflect the ethos of the school in the design. This process involved the whole school community – pupils, teaching staff, support staff, caretaker, lollipop men, governors and the head teacher.
The outcome of this process led to corridors being eliminated with their space allocation combined into shared spaces allowing for more interaction between children. Accessed via a bridge across an opened up stream, the entrance is clearly visible, overseen by the admin office and provides a direct connection into the central dining space, conceived as the shared 'heart' space to offer the children, many from deprived homes, a caring and warm 'family' environment.
The entire building takes a single storey form, with wide entrance doors and moveable walls, offering flexibility and ease of movement for all. Bright contrasting colours animate the internal spaces, with high-level clerestory windows allowing natural light into the heart of the building.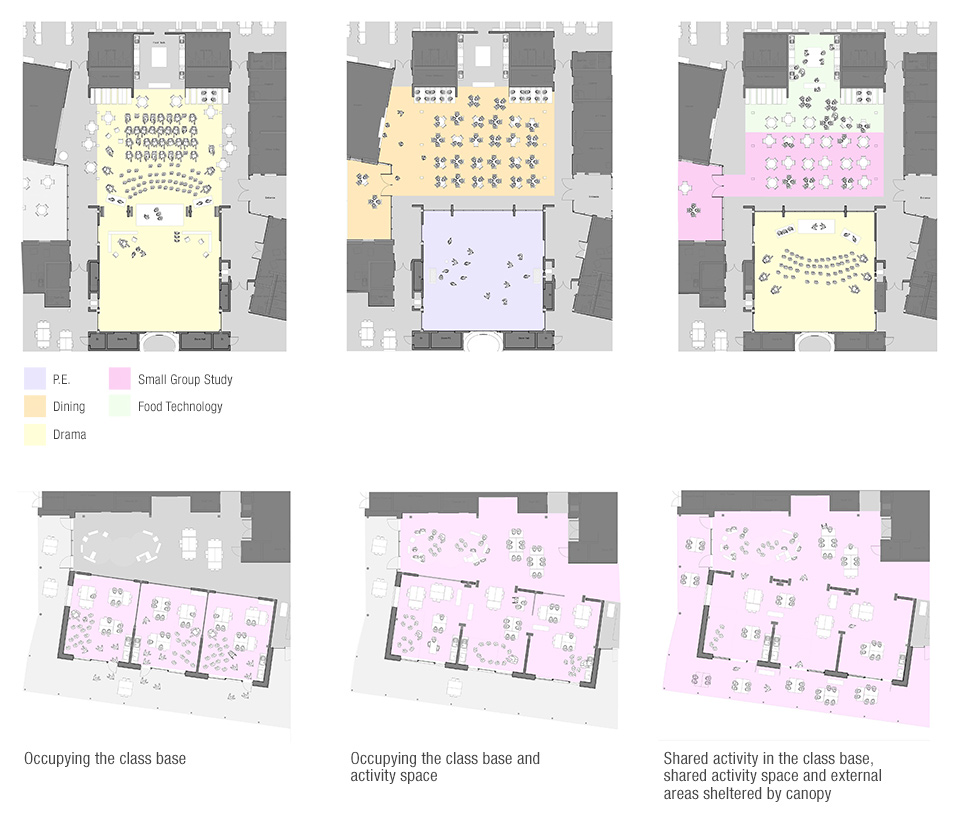 Sustainable features
Building orientation & section make most of daylight and solar heat gain.
High level of insulation, natural lighting and natural ventilation.
Natural materials, timber structure, off-site timber panel construction.
Untreated Welsh timber cladding.
Meadow grass green roofs.
Achieved BREEAM Excellent.
Interactive/educational landscape design includes open water course, pond, bridge, a woodland, amphitheatres and playgrounds.
Photovoltaics integrated in the roof membrane.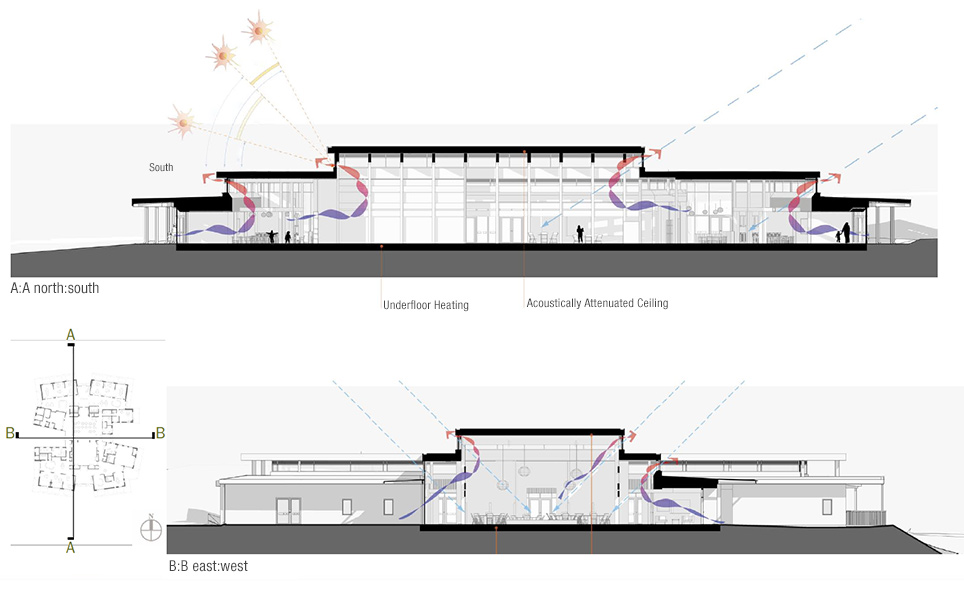 BREEAM Compliance
The building is expected to achieve an 'Excellent' BREEAM Rating with an intended score of 71.34%
Basic Building Cost — £1100/m2
Services Costs — £409/m2
External Works — £501/m2
Total area of site — 2.27 hectares
Function areas and their size — Dining Room (170m2) and Hall (144m2)
Area of circulation — 117m2
Area of storage — 41m2
Predicted electricity consumption — 35 kWh/m2
Predicted fossil fuel consumption — 45 kWh/m2
Predicted renewable energy generation — 6 kWh/m2
Predicted water use — 4.6m3/person/year. No greywater recycling could be installed on the scheme due to site conditions.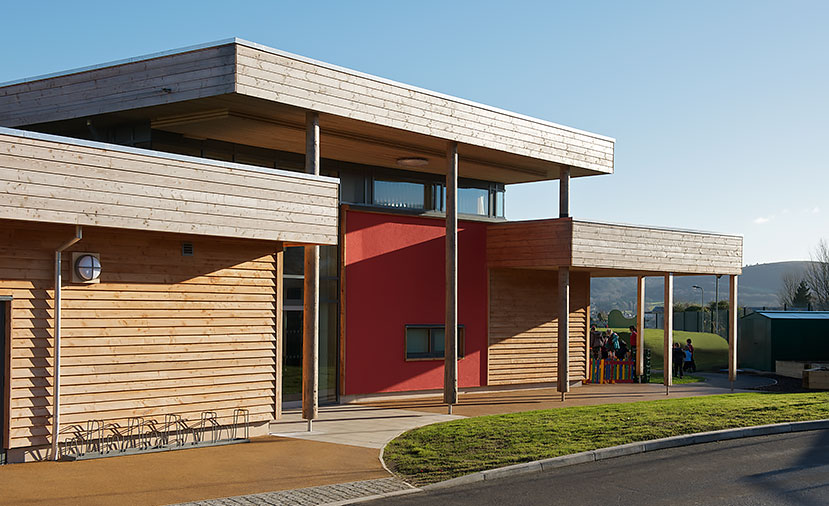 Architype Team
Elrond Burrell
Kathryn Nickson
Project Partners
Structural Engineers

Bradley Associates

Quantity Surveyors

Cyril Sweett Limited

M&E Engineers

Newport City Council

Landscape Architects

Caerphilly County Borough Council

Acoustic Consultant

Mach Acoustic

Main contractor

Kier Construction

Technical Detailing

Caerphilly County Borough Council Building Consultancy
Accolades
Shortlisted for RIBA Welsh Architecture Award