Duxford Paper Store
Imperial War Museums
Project Outline
A new-build storage facility for the paper collections of Imperial War Museums (IWM) re-thinks the strategy for collections care, taking Architype's approach for passive preservation to the next level.
IWM's responsibility to preserve over 100 years' worth of collections for future generations in the best possible environmental conditions and in line with the highest standards of best practice was the catalyst for commissioning the new building. The new facility will bring together over 14,000 linear meters of IWM's collections into one central repository on the historical conservation area at IWM Duxford. The new store will hold one of the world's most important collections of artworks, photographs, letters and diaries covering the history of warfare during the twentieth and twenty-first centuries.
The new facility is designed to provide for up to 30 years' expansion of IWM's unique collections, which tell the human stories of lives engulfed in war and show how conflict has shaped the world in which we all live. The innovative new building will support IWM's mission to preserve these stories and help future generations to better understand the causes, course and consequences of war.
Timeframe

On Site / May. '18
Completion / Jan. '19

Gross Internal Floor Area

1,452 sqm

Construction Type

Concrete blockwork, insulated timber Corten Cladding

Costs

Total / £2,863,000
Designing in the historic context
The single storey singular box form is designed to complement the existing historic buildings on the site at IWM Duxford. Though simple in form, the oxidised steel façade offers thoughtful detail, consisting of ground-to-roof panels that signify each year of archived collections from 1914 onwards. Perforations in panels denote the quantity of collected documentation, with noteworthy years around wartimes being heavily perforated in accordance with the volume collected. The plain and uninterrupted patina of the oxidised steel complements the colour and texture of the historic brickwork on the site.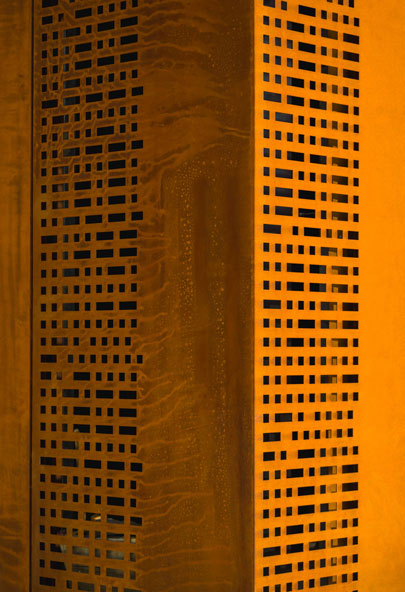 Guaranteeing the environmental conditions of the stores
To ensure the long-term preservation of the collections it is critical that the environmental conditions of the building remained very stable and well within the optimal tolerances for temperature and humidity. Traditionally this has been achieved through a finely tuned balance of complex building services. A Passivhaus strategy offered IWM an opportunity to use a low-energy method that guaranteed stable environmental conditions for significantly lower running costs.
The repository is the second completed Passivhaus archive for architects Architype, benefitting from lessons learned to produce a highly refined and efficient building. As such the new archive building boasts (at the time of writing) the world record for an airtightness result of 0.03ach; as well as incorporating pioneering strategic differences from common structural approaches and design strategies.
Architype Team
Gareth Selby
Meital Ben Dayan
Project Partners
Contractor

Fabrite

Project Managers

Fraser Randall

Structural Engineer

Momentum

M&E Consultant

E3 and Elemental Solutions

Quantity Surveyor

Avison Young

Selected subcontractors and suppliers

Rackline

Photography

Richard Ash IWM
Accolades
Best result for airtightness in the world
RIBA National Award winner 2021
RIBA East Sustainability Award 2021
Dezeen Cultural Building of the Year 2020 - longlist
Architizer - Architecture + Engineering - finalist