Masterplanning & Feasibility Studies
Introduction
Architype is highly skilled at brief development, at assessing existing school buildings and sites, undertaking feasibility studies and options appraisals, as well as skilfully reorganising or designing anew to accommodate change or expansion. Our expertise spans whole site masterplans that intelligently integrate existing buildings with cost-effective new additions.
This specialist expertise is recognised by our clients - we have completed the assessment of 75 primary school sites and 4 secondary schools for Southwark Council, and recently have advised the London Borough of Croydon on their education expansion plan, as well as undertaking 13 concurrent feasibility studies and options appraisals for new and remodelled secondary, primary, and SEN schools across the borough.
Building Performance
Where possible, we look to improve the building energy performance of existing buildings. We adopt the most appropriate solution, which can include additional external insulation layers, replacement windows and doors, improvement or replacement works to existing heating systems, which are often running inefficiently. If additional space is required, we ensure any extension work is of a high fabric quality, and strategically positioned to maintain and improve the buildings' energy efficiency.
Natural light plays a prominent role in our design solutions; with many existing buildings we are able to increase or reveal the existing windows, and ensure that any additional windows are positioned effectively, to increase daylight levels and complement the ventilation strategy adopted.
Our Approach
We bring a proactive approach to feasibility studies which include:
Establishing a collaborative team structure.
Ensuring effective communication between all team members.
Creatively exploring design options.
Carefully considering the design against programme, cost, value and risk simultaneously.
Rigorous and relentless alignment to project budget and client aspirations.
Identification of aims and objectives.
Identification of a Project Execution Plan and success criteria.
Establishment of project structure.
Understanding preferred communication lines.
Clearly defining roles and responsibilities.
With most feasibilities we undertake a curriculum analysis, full desktop and physical analysis that includes site analysis and immersion days within the school environment to ensure we can understand the ebb and flow, teaching pedagogy and general atmosphere and environment that may influence our design work.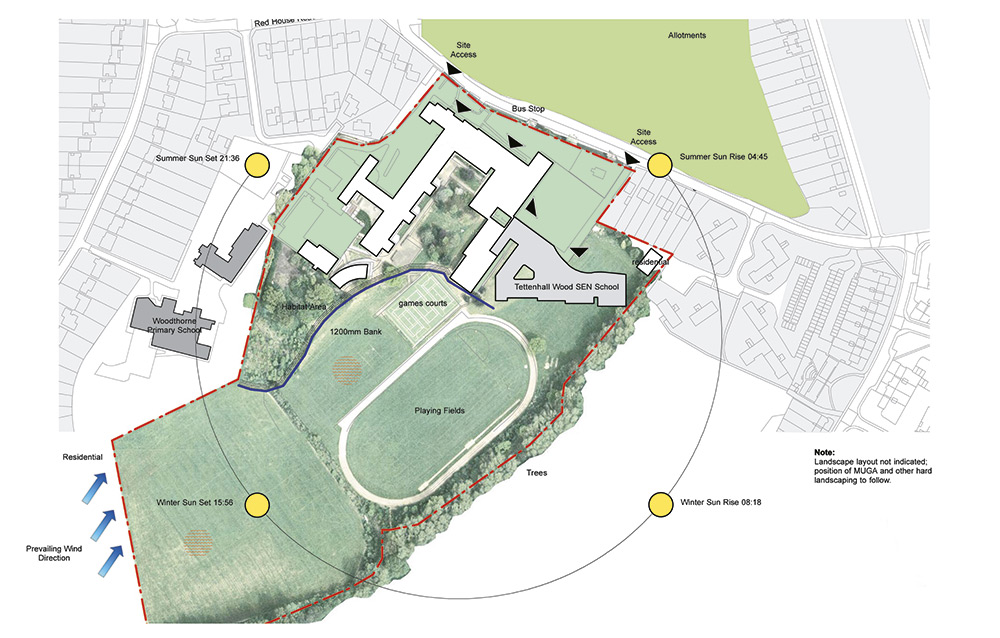 London Borough of Croydon
A suite of 13 feasibilities were undertaken for Croydon Council's education expansion programme for their secondary schools. These secondary school designs included both new build and remodelling / expansion options, and included listed buildings in conservation areas, and sites located within Metropolitan Open Land. Key studies include:
South Norwood CALAT: options appraisal to convert existing adult training centre into a 4FE primary, a BESD school, or 4FE secondary school.
Westwood Language College for Girls: options appraisal for a 3FE & sixth form expansion to this secondary school.
Highbury Avenue: options appraisal for a new 4FE secondary school and SEN unit.
Kensington Avenue: options appraisal for a new 4FE secondary school and SEN unit.

BSF Secondary Schools, Wolverhampton City Council
Architype was engaged by Wolverhampton City Council in the development of their 25 school £300 million programme for BSF secondary schools. Architype developed initial proposals for 6 secondary schools, and further developed 2 of those secondary schools. Architype engaged in a process of assisting the schools in developing ideas and strategies for their BSF agenda of educational transformation. At every stage, careful consultation ensured that the schools were fully engaged in decisions about both the overall strategic direction and the detailed building proposals.
London Borough of Southwark
Architype conducted a strategic overview of 75 primary schools and 4 secondary schools, for the London Borough of Southwark, assessing their sites for maximum levels of expansion, as well as condition improvement and suitability works.

Bedelsford SEN Primary and Secondary School, Kingston
Architype worked closely with the senior team and other critical stakeholders, such as health professionals, at Bedelsford PMLD (Profound Multiple Learning Difficulties) through school to assess the most appropriate strategy for dealing with the complex sequencing requirements of this refurbishment, extension and rationalisation project, with the aim of minimising disruption to the school's vulnerable population. Key challenges included complicated site issues – being in a flood zone, managing a suite of aging buildings – along with issues of developing a construction programme with pupils who cannot easily adapt to change or noise disturbance.

Architype Team
Related Material