The Genesis Centre
Somerset College of Arts and Technology
Brief
Architype was commissioned to create a demonstration centre and powerful learning tool to support the college's foundation degree in sustainable construction.
The project required embedding sustainable principles through:
Influencing the design of new housing and refurbished buildings.
Training construction professionals, both new and those already employed within the industry to build using sustainable methods and local materials.
Positively influencing energy use in the South West of England.
Increased recycling.
Creating more local businesses and jobs in the industry.
Changing behaviour to embrace sustainability.
Timeframe

Completion / May. '06

Gross Internal Floor Area

633 sqm

Construction Type

Various: Straw Bales, Earth Construction, Timber Construction, Clay Blocks and Steel

Costs

Total / £2,500,000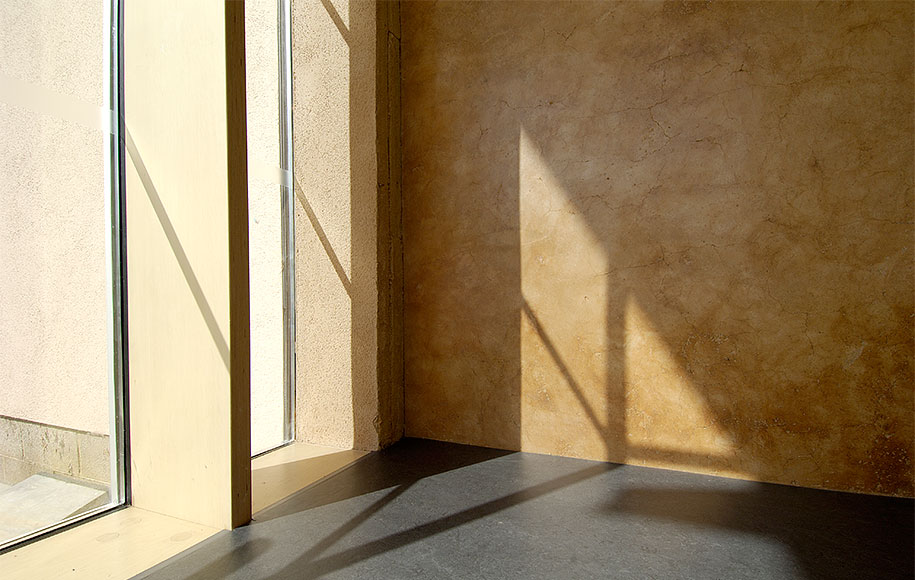 Demonstrating Sustainability
The Genesis Centre at the Somerset College of Arts and Technology is a cutting edge and innovative exemplar of sustainable construction.
The College is a Centre of Vocational Excellence for Construction and The Genesis Centre provides a dynamic focus both for the development of sustainability in the construction curriculum, and for wider dissemination in the industry and community.
The concept was to successfully demonstrate the many different techniques and materials available for sustainable construction; straw bale, earth, timber and clay block. The overall design had to be flexible and have the ability to stay at the forefront of modern technological developments.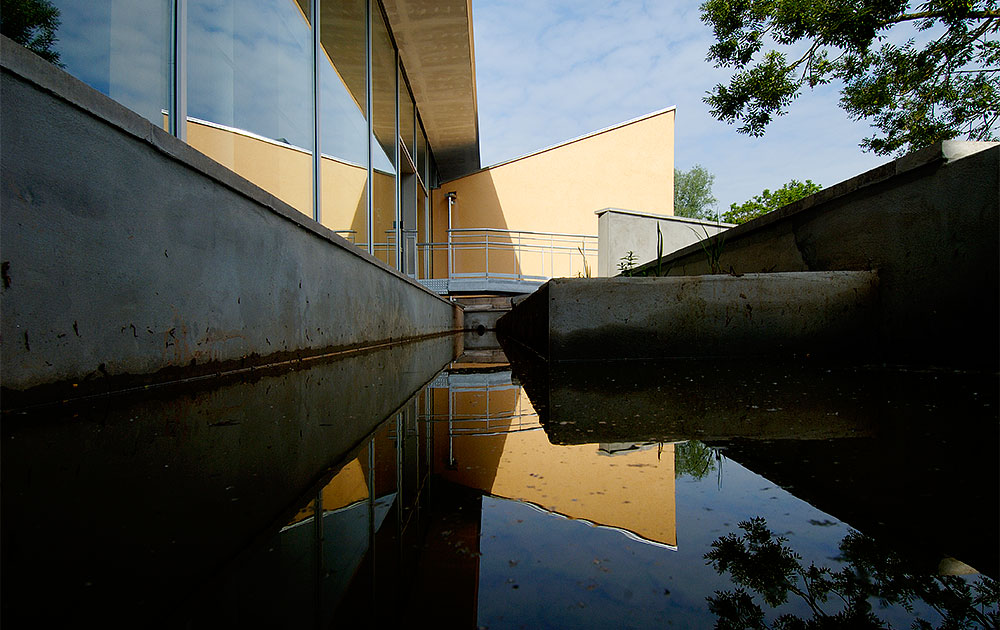 The Genesis Centre is formed from a series of pavilions, each connected to a central forum space. Boasting different construction methods, each pavilion successfully demonstrates a sustainable form of construction. Externally, each pavilion is fully finished and weather tight, whilst internally sections have been stripped away to reveal and demonstrate the unique fabric build up, which acts as a learning tool for the college students and visitors.
Within each pavilion different facilities are provided which include a lecture theatre, seminar rooms, offices, information centre and exhibition space. The entire centre is designed to easily accommodate future changes through the removal and replacement of any or all of the pavilions.
The Centre has proved highly successful for the college, attracting a wide range of visitors and school parties, together with conference bookings by corporate bodies ranging from the Association of Environment Conscious Building to Clarks Shoes and a Scandinavian furniture design company.



Straw Pavilion (Seminar Rooms)
Both this and the earth pavilion follow the old adage that when you build a wall of such natural materials it needs 'a good hat and boots'. They have bases of concrete block, though not pitched roofs. The straw pavilion's roof build-up - structure, insulation, sedum green roof - is articulated by a boarded edge with a very deep aluminium ashing to throw water clear of the lime-rendered walls. The structure is a timber and straw hybrid, using the load-bearing capacity of the bales while ensuring movement is controlled at the interfaces with the main pavilion curtain wall.
Bales of local wheat straw (U = 0.13W/m 2K) were laid in stretcher bond and pinned with hazel rods, then precompressed with straps while the roof was added. Internal timber studs were used to provide the exact final wall perimeter dimensions, in case the bales should shrink further. (There are 40 probes in the bale walls to monitor moisture profiles.) A pump-action machine was used to force in the external render to ensure a strong key.
Some of the interior surfaces are finished with a quite heavily textured lime plaster. Others, including the external wall within the main pavilion, are finished in axboard - a smooth-surfaced sheet.

Earth Pavilion (Shop)
This pavilion is open fronted, its three other walls demonstrating three different unfired earth constructions. (These walls don't meet at the pavilion corners, providing a challenge for the engineer.) The cob (earth and straw) block wall (U = 0.23W/m 2K with external insulation) uses earth from within 10 miles.
Blocks are hairy (which is good for keying plaster), part left exposed for demonstration, part finished with an earth plaster reinforced with llama hair, with a polished wax finish.
The cob wall (U = 0.21W/m 2K with external insulation) was built up in lifts of around 800mm without shuttering, by forking on the mix and treading it, then trimming the 500mm-thick wall as it dried, a process which can produce relatively sharp arrises.
This has been left exposed. The work was done between the main contractor and artists Jackie Abbey and Jill Smallcombe (whose work includes the cob bus shelters at the Eden project). Here the earth was subsoil from the foundations plus straw and a sharp sand. The third wall is rammed earth (U = 0.23W/m 2K with external insulation) formed within steel shutters, without straw and a drier mix. It has been finished with linseed oil. The contractor had to wait for some differential shrinkage before trimming the three walls to height for building the roof.
Roof insulation is a recycled cotton quilt - blue from its content of denim, imported from the US, but expected to be available shortly from Sheffield Insulations. The construction is a cold roof and there are slots on the parapet on two sides to ventilate the roof construction. Roof finish is a 'brown roof' comprising 6.5 tonnes of building rubble, a poor growing medium but one that tends to lead to greater species diversity in time.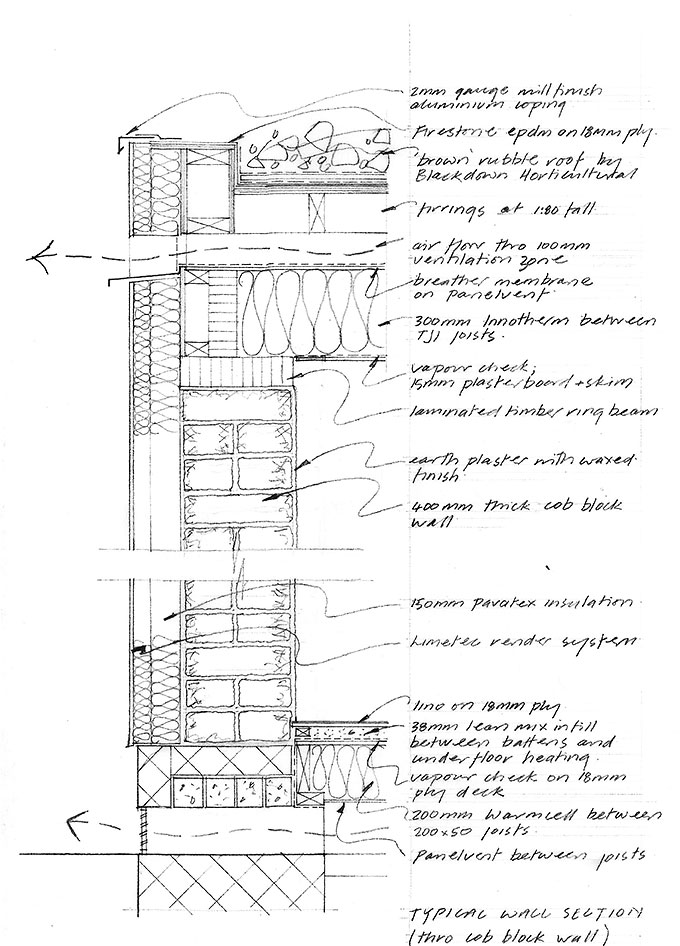 Clay Pavilion (Lecture Theatre)
Cellular fired clay blocks - Ziegel blocks from Germany (U = 0.31W/m 2K) - are precise enough to be laid thin-bed and have no mortar in the perpends, though there is some mechanical interlock. They provide a straightforward single-leaf wall, without cavity or added insulation layer. The external lime render is a proprietary sprayed system applied by Ziegel. With the longer spans of this 50-seat (in bent ply) theatre, the roof is supported on Glulam beams. The roof finish is a single-ply membrane (sedum was costcut here and for the timber pavilion). Discreet wind catchers and the heavyweight walling are so far keeping room temperature well under control. A clay plaster (Claytec) was used on the exterior within the main pavilion, but was felt to be too soft for the lecture theatre interior itself and lime plaster has been used there.

Timber Pavilion (Offices)
Prefabricated timber framing was site-insulated with recycled newspaper (Warmcell) (for separated stud construction, U = 0.167W/m 2K). This is the super-insulated, lighter-weight, faster response pavilion. The interior finishes are either plaster or, on the interiors of the external walls, birch-faced ply.
Overall it is breathing-wall construction, something Architype has developed. The timber-board cladding detail (developed with the Timber Research and Development Association) is an interesting one, coping with red cedar boards which were cut six weeks before installation in the Forest of Dean, and was susceptible to considerable moisture movement. A specially profiled batten allows one-nail fixing: the process of nailing through board and batten pushing this batten against the head of the board below, holding it by friction at that point, so it can move.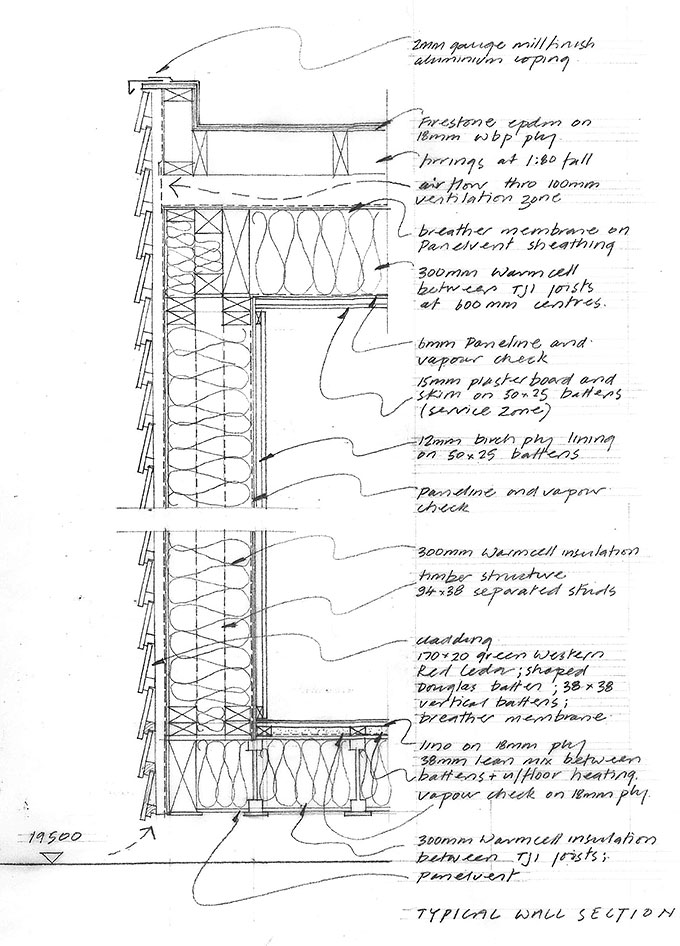 Architype Team
Howard Meadowcroft
Leah Dempsey
Project Partners
Structural Engineers

Whitbybird now Ramboll UK

Quantity Surveyors

James Nisbet & Partners

M&E Engineers

Tandy Associates

Main Contractor

Russell Construction

Water & Energy Consultant

Elemental Solutions