The Gower School
The Gower School
Brief
The Gower School is one of the first montessori primary schools in London. Our client's brief was to create a beautiful building in amongst a dense inner-city site, in which children and staff would feel valued, and which fully expressed and supported the Montessori philosophy.
Rationale
Architype has transformed a suite of derelict buildings within a tight urban site into a delightful, vibrant primary school with a strong environmental agenda that runs through the building. Wrapped in zinc, with a contrasting lilac face and gold timber, the new building shines out within the dense urban sprawl of the Kings Cross area.
The Montessori philosophy gives highest priority to encouraging children to become independent learners and thinkers, who can take some responsibility for their own study programme. Architype developed a design to fully support this – we created a bespoke and unique learning environment which would be a warm, supportive, and fascinating for the children.
Timeframe

Completion / Sept. '07

Gross Internal / External Floor Area

600 sqm

Construction Type

Refurbishment to existing, timber frame extension

Costs

Total / £1,300,000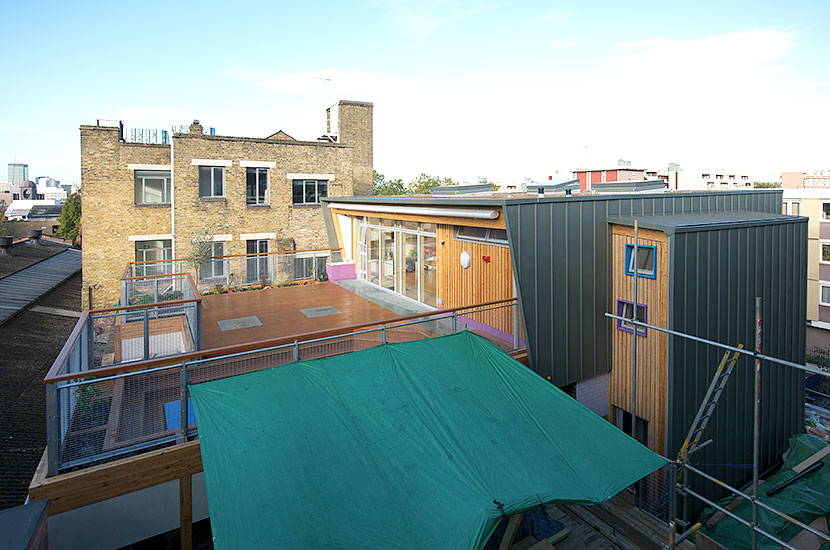 Design Process
Architype has taken this very difficult and restricted inner city site and mishmash of semi derelict workshop buildings, and carved out a series of high quality and flexible spaces.
Architype worked very closely throughout the project with the client, and spent a lot of time in the school to truly understand their needs and unique philosophy. From this we developed a learning environment designed around natural light; natural ventilation; natural and non-toxic materials; excellent acoustics.
The whole process was an innovative approach to designing a complex building working with a client who wanted to change the brief as the project progressed. Architype chose the Construction Management Contract to manage the project, which meant we were able to respond quickly and flexibly to the client's ideas, and fast track the project. This approach proved very good value.
Transforming these existing buildings into a vibrant new school required an intelligent response to the tight site and challenging levels. The design carved rooflights and new light wells into the existing structure, to create new viewing places, and minimise the need for artificial lighting. Existing materials were re-used as much as possible – for example some of the existing rooflights became clerestorey windows in the new storey.
It proved impossible to use a crane due to the site restrictions, instead we developed alongside the builder a bespoke hoist system to deliver larger elements.


Results
A range of indoor space includes smaller scale rooms for one-to-one learning and children with specific needs such as autism, and specialist spaces for music and language. Architype's flexible layouts with consistent levels of natural daylight throughout encourage the Montessori sense of freedom for self-directed learning and multiple activities happening simultaneously without fuss.
Exterior colours are vibrant and create a public presence. Inside, colours are non-institutional, yet calming and not too intrusive. Outside, children look after small animals, tend planted areas and gardens and grow produce for school meals. A beautiful rooftop terrace incorporates a mini amphitheatre and looks over the city.
Displayable smart metering, solar panels, and other ecological features are visible and interactive - understanding how energy is used is a big part of the curriculum, and as environmental architects we have worked collaboratively with the school to express the ecological profile of the new school. Skills in curriculum areas such as science are improving, as children are learning first-hand about the Earth's resources. They have also been furthering their skills in design and planning through designing their own mini-gardens, which are now thriving on the roof and in the school garden.

Consultation Process
The whole design and delivery process was centred around the needs of the children and staff. We took staff out to visit examples of our other school projects, to spark off ideas and discuss needs and aspirations. During the build process staff were given regular tours by the builders.
A very specific phasing programme was developed so that the school could be operational throughout even on this small, restricted site, and developed scheduling with the builder to ensure noisy work was carried out at times which would not disrupt learning.
We held a range of consultation workshops and activities with the children, including workshops to develop the design of the roof terrace garden. For these sessions a landscape designer was brought in to make models and designs, mapping out how they would like to see their new rooftop deck used. From these ideas a final layout was developed which includes a digging / growing area, places for eating and chatting, and a mini amphitheatre.
Planting and growing has now become part of everyday school life through the garden and green roof. In the garden, children tend the fruit, vegetable and herb patches for the learning of plant cycles as well as using in the school's vegetarian menu. The children's continued environmental awareness is disseminated through to parents, and carried on into the home.
We designed a building, which is demonstrative of its green credentials; reduces its energy consumption through its design; is built entirely from sustainable materials; and enables users to monitor their energy use. High levels of insulation improve the existing fabric; and a new green sedum roof improves thermal performance, enhancing biodiversity and attenuating rainwater run-off. Spray taps further reduce water use. Low energy light fittings are installed along with high performance windows and doors.
We have used our specialist palette of natural, sustainable, and recycled materials throughout the building. These materials have a low embodied energy and whole life cost, are natural to the touch and non-toxic – particularly important for children as they are more sensitive to toxicity.
The Gower School has a breathable natural construction using Masonite I-Joist timber frame structure with Pavatherm recycled wood fibre boards, infilled with Black Mountain Sheep's Wool. All timber is FSC certified and the Bamboo floors are from sustainable sources. Paints and stains are organic.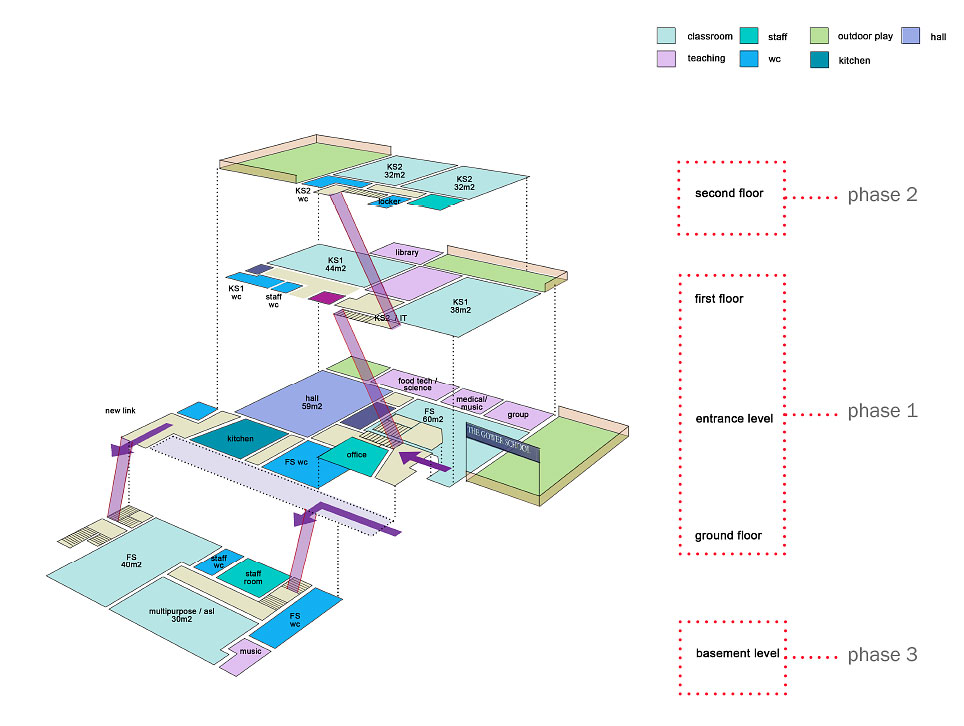 The whole school site is a green exemplar, designed from first principles to minimise energy use. Excellent levels of natural light minimise the need for artificial lighting. Photovoltaic panels are to be installed to generate 1KW of energy for lighting. Adaptable user controls with opening rooflights, window actuators and blinds enable staff and children to control their own environmental conditions. We have combined this with EWEGECO Displayable Smart Metering installed to monitor all gas, electricity and water supplies used within the building – our user-friendly combination of control and monitoring raises awareness and empowers everyone to save energy. We introduced a passive ventilation strategy, eliminating the need for expensive and energy-hungry cooling systems, and the new insulation further reduces heating requirements.
The new building storey has a roof u-value of 0.13 and walls u-value of 0.15, which are well above building regulations requirements. We have undertaken embodied carbon analysis of the new extension, the result is 739 kgCO2/m2/year - and assessed the continuing operating energy, the result is - 18 kgCO2/m2/year. These are excellent as compared against best practice guidance for primary schools, especially given the small size of the extension, and its difficult location on top of an existing building.
Post-Project Results
The school is now a wonderfully 'energy literate' place. Children and staff are constantly encouraged to think green, and take action to reduce their consumption - turning off lights when leaving rooms; turning off taps; closing doors to keep heat in; using the recycling bins around the school. The school's carbon footprint has reduced through schemes such as Walk to Work Week for teachers and parents, and Walk to School Week, for children using a badge awards system. The sustainable transport strategy includes a car share programme encouraging parents to share cars on the school run.
There has been a demonstrable reduction in raw materials and increase in the use of recyclable materials. New measures such as separate bins for recycling and biodegradable waste; paperless meetings; an electronic invoicing system; and recycling of ink cartridges have been introduced. Children get involved in lobbying suppliers to minimise packaging, and the school is measuring data on waste streams.
Project Partners
Main Contractor

John Brown Construction Consultancy

Structural Engineer

Conisbee Structural Engineers

Service Engineers

Michael Popper Associates (Phase 1)
The Anslow Partnership (Phase 2)


Quantity Surveyor

Gordon Hutchinson Chartered Surveyors
Accolades
Winner BCSE Best Independent School 2011
Runner up Giant Green Business Awards 2010