Community Self-Build Projects: Hedgehog and Diggers
South London Family Housing Association & CHISEL
Project Outline
Diggers and Hedgehog Housing Schemes are pioneering self-build projects harnessing the imagination and skills of ordinary people.
These projects used a simple timber frame method that was created by architect Walter Segal for several 'community' self build schemes in the early 1980s, and since developed and updated by Architype to exceed current construction standards.
Timeframe

Completion / '96

Construction Type

Timber Frame

Costs

Total / £500,000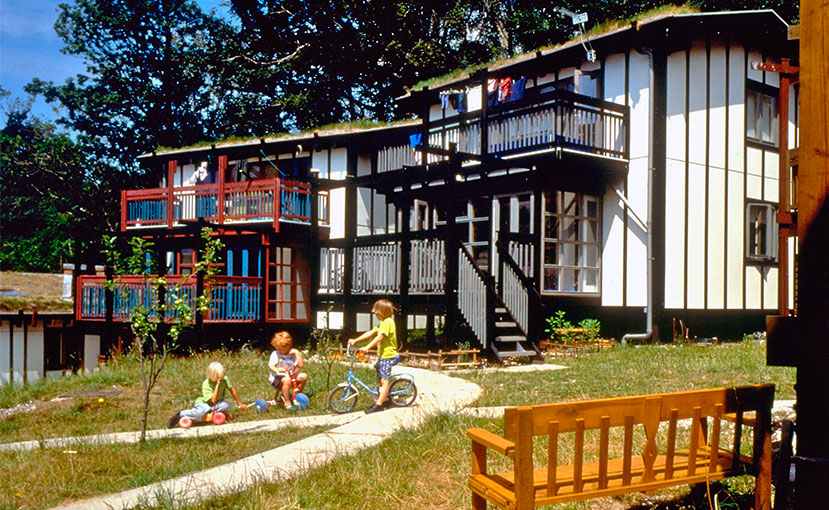 Diggers Self-Build
The Diggers scheme brings back into use the derelict site of a disused golf club, surrounded by a mixture of postwar housing developments on the outskirts of Brighton. The site, edged with trees and offering extraordinary views over the town to the sea, demanded an alternative form of construction as opposed to conventional methods due to its steep sloping gradient. Planners' initial concerns about density were overcome by specifying a sea of grass roofs to provide wildflower gardens where overlooked from the flats behind.

Hedgehog Self-Build
At Hedgehog, the houses are set slightly into the hillside above Bevendean overlooking the roofs of the houses below towards the sea, and have grass roofs to minimise their impact when viewed form the other side of the valley. They all have balconies which reap the benefits of the South facing view and sunshine. The site is ringed by a 3 metre strip of wild indigenous planting and utilises a recycled plastic grassed access road. All the houses are fully wheelchair accessible.

Consultation Process
The houses were designed in close consultation with the group and individuals; developed to enjoy the natural advantages of the site, with generous windows and natural light, changes in level, conservatories, balconies and verandahs. No two houses are the same, some wanted open plan living/dining/kitchens off a conservatory, whilst others wanted their living areas upstairs in order to maximise their enjoyment of views down the valley towards the sea.
Structural Strategy
The post and beam structures of both schemes utilised minimal pad foundations at the foot of each post; allowing development close to mature trees as well as on the steeply sloping sites without expensive retaining structures.
Ecological Strategy
The specifications were based on ecological principles aiming to limit the energy consumption and pollution which can result from production and building processes as well as subsequent use. The dwellings require minimal energy for heating due to high insulation levels, and achieve excellent NHER energy ratings; amongst the highest in the country – 9.8 out of 10 for the largest 3-bedroom house, with annual space heating costs of around £50.
Related Links
Accolades
Winner of the 1997 Housing Design Awards
Environmental Care Award in 1994