Herefordshire Archive and Records Centre
Herefordshire Council
Project Outline
The Herefordshire Archive and Records Centre is a dynamic building with a clear and simple form and layout that creates a variety of stimulating internal spaces, with spaciousness, exhibition areas and distinctive public and private zones. Particular focus and attention was given to creating a building that is welcoming to both regular and drop-in visitors. The choice of internal materials reflects the characteristics of each internal activity zone, creating a clear and defined arrangement of spaces.
The building takes the form of two simple and distinct masses separated by a 'buffer zone' which is articulated into an entrance foyer, reception, information and display area, overlooked by bridges and a tunnel at higher levels connecting the two spaces.
The larger of the two masses, an un-perforated concrete structural box with vented cedar shingle cladding, holds the main archive and records repository forming secure accommodation over three storeys and providing thermally isolated and environmentally controlled conditions – tuned and optimised for archival storage. The other, a lightweight 2-storey timber framed system houses the offices, public search rooms and education facilities. Specified for their graceful weathering patterns, the proposed palette is made up of high quality 'natural' materials, which sit, in visual harmony with the landscape.
Timeframe

On Site / Oct. '13
Completion / Jan. '15

Gross Internal Floor Area

3,350 sqm

Construction Type

Repository – Monolithic Concrete, Offices – Timber Frame

Costs

Total / £8,100,000

Response
A key aspiration was to provide a warm and welcoming atmosphere with an air of frugal quality without ostentation. The building reflects a suitable scale and materiality, and in keeping with these aspirations, articulates the use of concrete, timber and glass.
The public entrance, the face and heart of the building, provides a dramatic threshold, incorporating reception, refreshments, information stations, exhibition space, WC's and lockers. This area enables views throughout the building; horizontally, vertically and externally. Daylight penetrates this area flowing deep into the building, allowing the passage of the sun to animate spaces throughout the day.
From the entrance, the remaining public accommodation is reached through secure access and comprises of large open plan search and study areas towards the south façade, with enclosed daylit spaces washed with light from high level clerestory glazing from the atria.

All accommodation utilises a mixture of mechanical ventilation heat recovery (MVHR) and natural ventilation strategies depending upon seasonal and occupational needs, enabling a fully moderated internal environment.
Internal communication within a building promotes social and spatial connectivity, engendering at all times a sense of relative location, both internal and external, maximising building and spatial legibility by the visitors and users.
The new facility provides a 'one-stop' service to the public and professionals alike, for access to local historic and environmental records and information. It is envisaged that due to the new facility having a multidisciplinary service, visitor numbers will rise significantly, benefiting from the wider service, extensive outreach, education and workshops.
The location of the site offers opportunity for a civic presence to Holme Lacy Road, the main arterial route through the Enterprise Zone, with the site accessible by car, bus, cycle or foot via the new sustrans/connect2 bridge over the River Wye – connecting the Enterprise Zone to the City Centre.

The building is designed to meet Passivhaus requirements – a rigorous European standard that works by insulating the building to the most effective levels and to meet PD5454.
The nature of the simple, well insulated design of the building provides a comfortable, consistent working environment with a constant supply of fresh air all year round.
Solar gain is controlled using brisesoleil and the highly insulated building fabric. Lighting loads are control by a combination of switching, daylight and absence control.
Summer ventilation is controlled by users who can open windows
 and insulated secure louvres. Cross ventilation into the atrium space via attenuated air paths is drawn by stack effect through actuator controlled high level openings. This also provides night purge cooling, supplemented if required by mechanical ventilation, to further drive down running costs.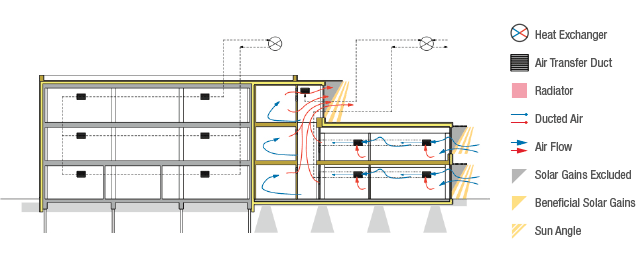 The building is airtight with highly insulated façade and efficient triple glazed windows. Rooms are supplied with constant fresh air warmed via the heat of the extract air through a heat exchanger that is fitted with CO2 monitoring and control.
Heat production is largely by gains from users and solar, supplemented by an efficient gas fired condensing boiler and low surface temperature radiators. The quick response time on the system and aided by the constant fresh air ventilation, controls and avoids any sudden temperature overshoot.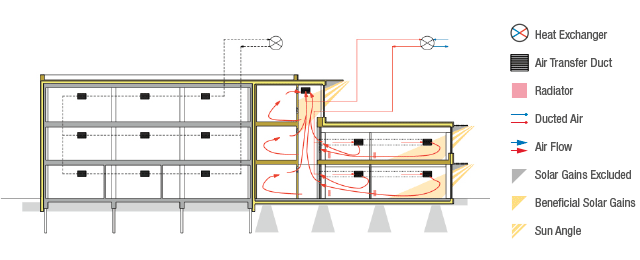 The design reflects the requirement for the facility to house many activities within the limited accommodation area by incorporating both 'multiuse' spaces and physical flexibility that moveable walls offer by redefining the 'lines of control' between public access and controlled public access spaces.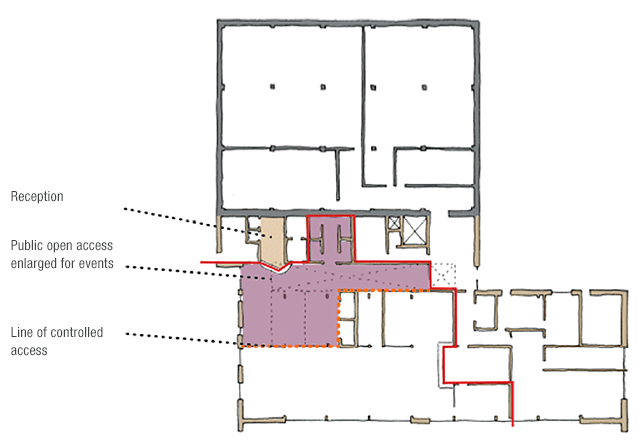 The building has been designed to accommodate universal access at ground level. All public facilities are located on the ground floor and all public accommodation has level access.
The publicly accessed facilities:
Entrance & reception
.
WCs and lockers
.
Information area and refreshments
.
Exhibition space
.

Information and sales.
Secure public facilities:

Search room
.
Local studies
.
Catalogue search, microfiche, retrievals
.
Consultation rooms, meeting/education room, volunteer room.

Project Partners
M&E Engineers

E3 Consulting Engineers

Structural Engineers

Eastwood & Partners Consulting Engineers

Project Manager

EC Harris LLP

Landscape Architects

Churchman Landscape Architects

Conservation Physics & Energy Consultant

Elemental Solutions
Accolades
Winner of RIBA West Midlands Regional Award 2015
Winner of Best Sustainable and Best Value Project in the Constructing Excellence West Midlands Awards 2015