Robert Fitzroy Academy
London Borough of Croydon
Brief
Renovation, conversion, and extension to the existing Davidson Centre Buildings have delivered a four-form entry primary school, the Robert Fitzroy Academy. The scheme provides places for 840 pupils and 90 teachers, and helps to assuage the high local demand for primary places.
Rationale
A 1950s brick building links two early Edwardian buildings, which are finely crafted and are the reason for the site's locally listed status. A 1970s modular steel frame building forms the gym, sports hall, and dining hall.
The existing buildings were to be preserved as much as possible, including features such as original drainpipes. Other restrictions applied to extending gable ends and obscuring existing windows. Architype visited the Croydon Archives Office to find as much historic information as possible, including the original architect's summary of the building, so that we could take as sensitive approach as possible to the refurbishment and remodeling process.
Our approach incorporates and restores original features where possible, particularly where they relate to the building's eventful history. We decided that the new works would be adding a new layer of history, and crucially would need to provide a school environment that caters for contemporary education practices.
Timeframe

Phase 1 / Aug. '12
Completion / July '14

Gross Internal Floor Area

4,175 sqm

Construction Type

Refurbishment of Existing Masonry Buildings with Extension

Costs

Total / £7,500,000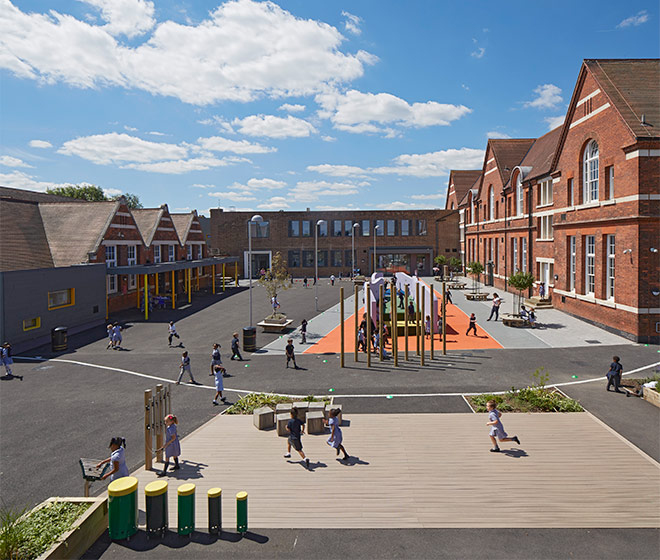 Process
We developed three costed options, and through these identified a preferred option and a series of key site strategies, which included;
A new public entrance at the centre of the site with a clear route and line of sight across the site.
A clear division of infants and juniors for educational coherence.
A celebration of the grand Edwardian facades, whilst unifying the other buildings and announcing the school to the street through a new façade treatment.
The potential creation of out of hours zoning to enable secure community use of the hall, kitchen, and MUGA.
The creation of an engaging landscape hub which forms a meeting space at the heart of the site.
The integration of a series of large flexible activity spaces distributed throughout the school at ground level.
The provision of outdoor access for all of Key Stage 1.
A good clustering of year groups, with all the year group classes within close proximity.
The central location of staff facilities.
The hall as a separate entity but connected via a new covered walkway.
Natural light and ventilation to the majority of the spaces through the use of existing high ceilings and large windows.
The development incorporates energy saving design features and low energy solutions to reduce energy consumption and CO2 emissions. The following have been included within the constraints of the plan, height and orientation dictated by the site:
Enhanced building fabric insulation U-values to achieve a better energy efficiency standard than the minimum requirements specified within Building Regulations ADL2A.
Glazing with good solar and daylight performance actors.
Maximised use of natural daylight within teaching spaces, office areas and the atrium.
Provision of passive solar shading to reduce solar gains.
Use of natural ventilation for night time cooling where possible, e.g. teaching spaces, office areas and atrium.
Incorporation of heavy thermal mass to absorb internal heat gains for the ground floor.
Where mechanical ventilation has been required, incorporate efficient heat recovery (e.g. plate heat exchanger).
Energy efficient lighting (such as fluorescent (T5's, T8's etc) and compact fluorescent luminaires (TC-EL's, TC-L's etc)) and automatic demand responsive control (via daylight, occupancy and time schedule) in the teaching spaces, offices, common areas and areas with variable occupancy.
Installation of a simple and efficient heating system, e.g. gas fired condensing boilers with a seasonal efficiency of at least 95%.
Sub metering of all gas and electrical services provided to allow the active monitoring of all energy and all the building users to target areas for reductions.
Provision of automatic shut off valves and metering facilities to reduce water consumption.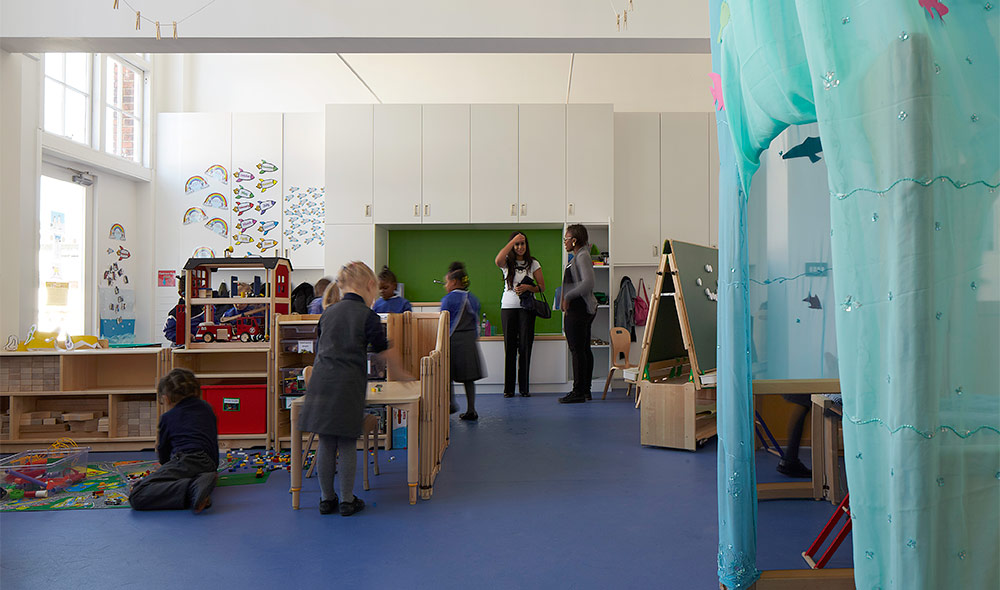 Results
This complex refurbishment involves a range of historic building issues including creating new openings in the existing façade; reactivating the original ventilation system; and inserting new services and insulation. As there was no room on the site for temporary accommodation, the project was being fast-tracked and a multi-phased approach was adopted, in order to meet the requirements of the first reception class intake by September 2012, with the project complete by July 2014. The playgroup also had to remain operational on site throughout the project.
Working closely with Croydon planning and conservation officers, we remodelled and refurbished the buildings into an inclusive 21st Century teaching and learning campus, developing a vibrant rebranding scheme, whilst respecting the original architectural character and history. Stripping out later architectural additions and creatively combining undersized classrooms has rationalised the plan, minimised extension of the footprint, and restored original features.
A series of small extensions bring class spaces up to date. Contemporary additions are clearly delineated, using zinc with coloured highlights and separating strips between the Edwardian buildings.
A strategy of using self-finished, robust materials externally has been followed to provide a long-life, easy to maintain building, which has a similar material honesty to the existing buildings. The colour scheme responds to the original Edwardian use of colour with coloured window frames, blinds, louvres, fencing, etc, all contributing to an interesting environment for the children. Colour has been used around the entrances to give welcoming warmth.
Architype's 'eco-minimalist' approach has been implemented whereby sustainability is integrated into the design rather than by 'bolt on' renewables such as wind turbines. This means that high levels of insulation have been allowed for while solar gain and natural ventilation have been carefully considered to reduce overheating.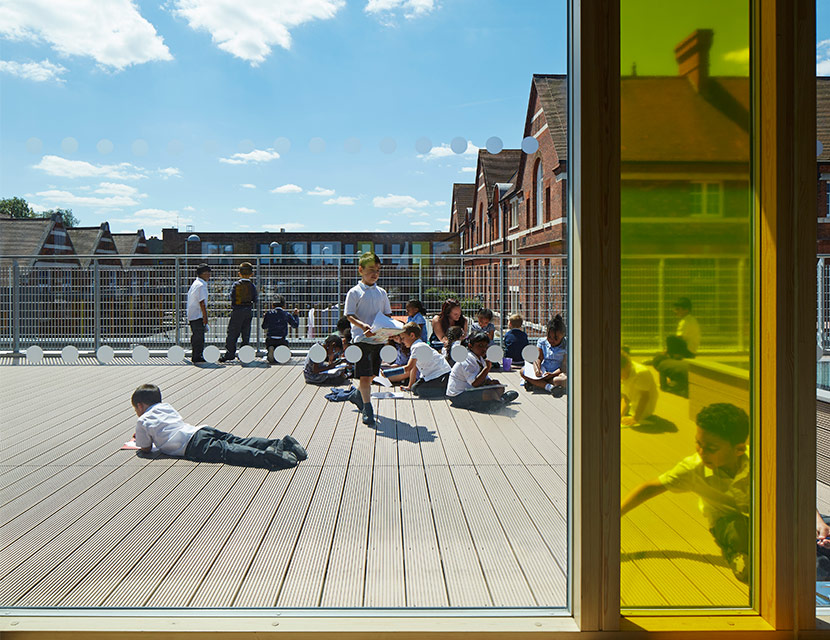 Landscape
A new external landscape scheme is defined by a series of spaces articulated around a bold 'river' spine (a concept informed by the Norbury Brook which is culverted beneath the site), which ties together from north-east to south west. Key Stage 1 and 2 have been located within the main courtyard, where a stepped amphitheatre and stage have been provided for external performance along with tree planting to soften the overall scale of the space, reducing the 'gardness' of both paved surfaces and building elevation, and provide seasonal solar shading to the classrooms.
The reception area play is a bold stripe of multi-coloured safety surfacing and incorporates a sand pit, fixed play equipment and a themed highway floorscape. The reception area is gated to control access from the remainder of the site.
A decked area with new planting is adjacent to the hall to create a pleasant outdoor eating area, and further planting with habitat interventions including log piles and bird and bat boxes create an ecology garden. A fenced and lit MUGA for external sports is available for out of hours use.
Architype Team
Ian Hayton
Jon Ackroyd
Kathryn Nickson
Project Partners
Quantity Surveyor

Gardiner Theobald

Service Engineers

Elementa Consulting
Atkins

Structural Engineer

DOA Consulting
Jacobs

Main Contractor

Osborne Construction

Landscape Architect

Matthew Scott Landscape & Lizard Landscape Design
Accolades
Architects Journal Retrofit Award 2015