Springhill Co-Housing
Cohousing Company Ltd.
Project Outline
Springhill Co-housing is the first new build co-housing scheme in the UK. Based on the Danish model, co-housing is a form of collaborative housing that aims to create a real sense of community and achieve true social and environmental sustainability.
Like all co-housing communities, Springhill Community was intentionally formed. The scheme has been planned, owned and managed by the residents who share activities like cooking, eating together, childcare, gardening and administration.
Timeframe

Planning granted / Jun. '01
Completion / Jun. '04

Construction Type

Timber Frame

Costs

Total / £4,500,000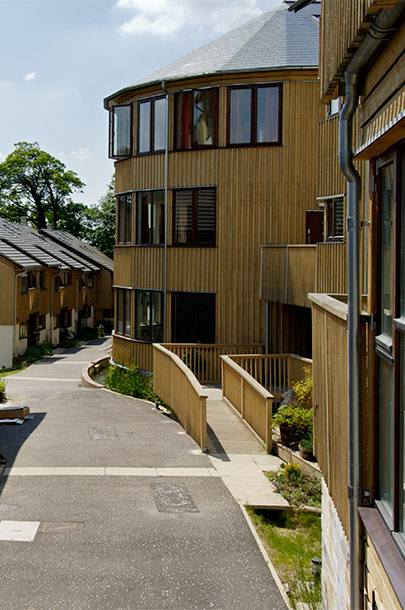 Springhill was the first in a programme of developments by the Cohousing Company Ltd, a housing developer with a progressive approach to design, the environment and new ways of living.
The residents of Springhill became equal directors of the company undertaking the development, and remain as directors of the company owning the freehold of the site. They each individually own the leasehold of their house or flat.
The project effectively falls outside the standard ways of housing provision in the UK being developed by neither a social landlord nor a private developer. It brings control of housing back to the residents, enabling them to develop and shape their own destiny, at the same time as building vibrant, strong, sustainable communities.
The scheme of 35 private houses and flats was designed with the full participation of the residents, and has achieved a sense of community not common in UK housing.

The project has developed a new housing typology, based on the principles of co-housing, including:
The whole site is pedestrian and child friendly, with cars kept to one edge.
Outdoor space is shared and communal, with no private gardens.
A shared common house at the heart, where meals are cooked and shared three evenings each week, together with other facilities including workshops and a playroom.
A car share scheme and bulk buying of organic food.
Post Occupancy Evaluation Study
In 2010, as part of Architype's key evaluation techniques, we monitored:
Temperature and humidity sensors
Thermography
Meter readings & Energy Assessment
Behaviour Survey
BUS Occupant Survey
Semi-Structured Occupant Interviews
Air temperature data loggers and RH data loggers (HOBO U-10) were installed late June 2010, set to log at 30-minute intervals. These were installed in living rooms, and a north and south facing room, wherever possible. Studios had one logger in the loft, and another in the living space, flats had one logger in the living space and one in the bedroom.
The building envelope underwent a thermographic image survey in mid-winter, 2011. Quarterly meter readings were taken in April 2010, June 2010, September 2010, January 2011, March, 2011 and June 2011. Readings were taking from the main import and export electrical meters for each unit, and also of the gas meters. No direct readings were taken from the water meters, but data was acquired from the water company, which had significant records for a full year.
Demand profiles were taken with in-situ current clamps installed in a range of units. The intent of the placement was to capture profiles of a low, medium-low, medium-high and high user for both gas and electricity. As high gas consumption is not necessarily indicative of high electrical consumption, or vice versa, the units that were profiled for gas and electricity were not necessarily the same unit or unit type.
In January 2011 the researchers conducted three full days of occupant interviews, BUS surveys and behaviour questionnaires. The interview was to establish the users behaviours and attitudes towards energy and resource consumption, which might affect their consumption.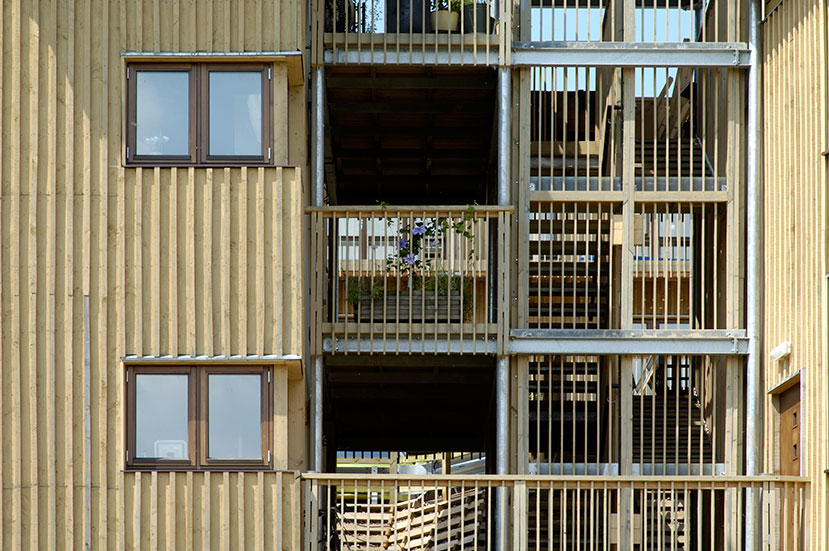 Learning from Post Occupancy Evaluation
The most significant outcome established that there was a remarkable sense of environmental and resident satisfaction, which can be attributed to the residents being part of the design and delivery of their own homes and having ownership over their design and construction. Their awareness of the buildings' strengths and weaknesses meant they were more forgiving of shortcomings and acted more responsibly and sympathetically in operating their homes.
The Springhill case study offers some unique learning around having residents integral to the design and delivery of their own homes. Their involvement in the process, whilst creating some lingering tensions within the neighbourhood, seems to have helped them to operate their homes responsibly and helped to manage their expectations about performance. The homes received a BUS Comfort score in the 99th percentile in the UK for comfort and satisfaction.
This has also resulted in the energy and carbon emissions performance of the homes being significantly better than one would expect, given their specification. Their average annual operational carbon emissions were approximately equal to that of BedZED and both electric and gas consumption were significantly lower than national and regional averages, despite having significantly less insulation than other low-energy developments, and minimal on-site microgeneration technologies.
The learning from this neighbourhood is that while the design of the homes were relatively robust (simple passive design strategy, good-quality windows and controlled glazing ratios), which enabled the homes to perform reasonably well, the real value and 'sustainability' of the homes is mainly down to the residents, themselves, having been part of the design and delivery process and understanding their homes' limitations. Whilst the specification had some room for improvement (and would have been higher-quality if not for the lack of funds), this project highlights that innovative delivery methods and business models for developing new homes can have real, tangible benefits in terms of energy and building performance. Not all "sustainable" solutions are technical – some are very much social, and about the people as much as the buildings.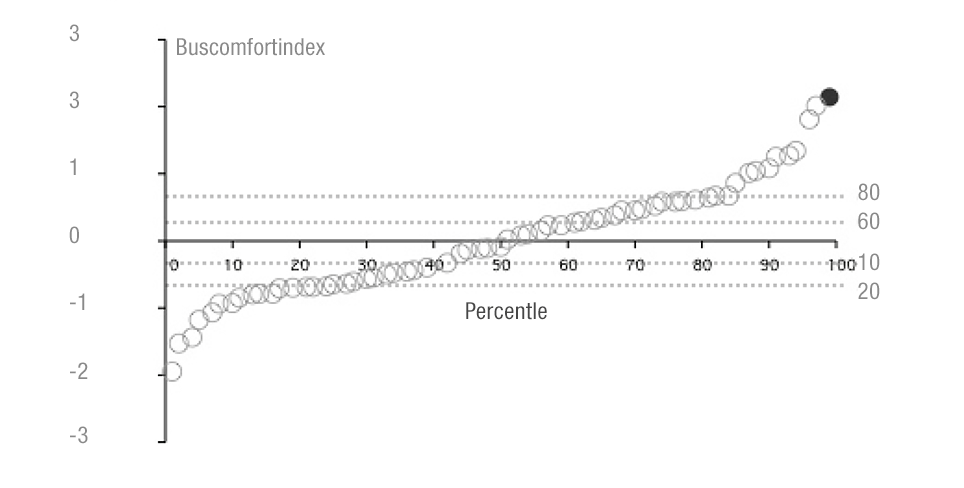 Comparative Electrical Consumption
Including the contribution from the PV at Stroud (where minimal electricity demand reduction design measures are implemented), overall electrical energy consumption is 52% lower than the local average.
Comparative Water Consumption
Benchmark water consumption data is not freely available for comparative case studies (which typically focus on energy and carbon emissions). However, the UK Code for Sustainable Homes (CLG 2008b) outlines 3 levels of water consumption – 120 (Code 1,2), 105 (Code 3,4) and 80 (Code 5,6) litres/person/day and the UK average consumption is 150 litres/person/
day (DEFRA 2011). Stroud Co-Housing achieves code level 5/6 performance (without utilising rainwater harvesting) improving on the national average by 46%.
Project Partners
Architect

Pat Borer (feasibility stage collaboration)

Landscape Architect

Robert Bray

Main contractor

Hodson Builders
The Adaptable Housing Company Ltd (timber frame)
Accolades
Finalist in the ODPM 'Sustainable Communities Award' 2006
Deputy Prime Ministers Award, Outstanding Contribution to Sustainable Communities