St. Anthony's Roman Catholic Primary School
Archidiocese of Southwark
Project Overview
Architype undertook the initial feasibility study to explore options to expand St. Anthony's School from 1.5FE to 2FE, increasing capacity from 324 to 420 children. Following a range of costed options, the preferred option was taken forward and the Architype team went to design the full project to completion.
St. Anthony's School is very popular and high-achieving. The School wanted this to be reflected through the external appearance of the new building, celebrating the success of the school, and integrating old with the new and landscaping to create a new visual coherence and identity. Splashes of bright, cheerful reds, oranges and yellows around the building tie in with the artist-designed forest motif cladding.
Timeframe

On Site / Feb. '12
Occupation / Sept. '12
Completion / Apr. '13

Gross Internal Floor Area

1,848 sqm

Construction Type

Refurbishment, Remodeling And New Build Timber Frame Extensions

Costs

Total / £5,500,000

Design Rationale
The new build accommodation provides an additional four classrooms and WCs, within a new single storey block. We improved the entrance and approach in order to guide visitors into the site towards reception, with coloured leaf patterns and a cladding scheme. The hall formed the heart of the existing school, and we have enhanced this by adding a new adjacent small hall, enabling the two spaces to be opened up to create a large space, and also to open out into the play courtyard. The new play courtyard is a transformation of the previous sloping and unsuitable play area, which was littered with portakabins and uneven paving slabs.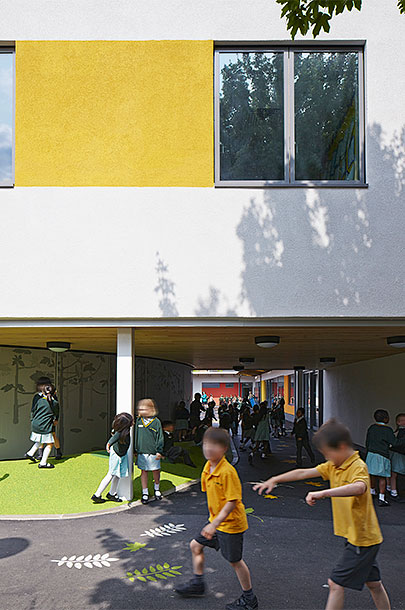 Consultation
Architype commissioned an artist, Alison Hand, to design bespoke cladding for the new school. Alison spent time in the school running drawing workshops with successive year groups, including collecting natural forms from around the school grounds, and then 'magnifying' them and incorporating them into giant colourful drawings and paintings on large rolls of paper. The final outcome was over 23 meters of bespoke perforated metal cladding, which wraps around the new school building starting at the entrance and sweeping around into the play courtyard. The design develops a forest walk theme, which keeps the hand drawn element in contrast to the tough manufactured surface.
Architype's 'fabric first' approach was at the heart of this unusually large scale building refurbishment and remodeling, ensuring that every existing element was insulated and upgraded. We stripped the buildings back to their existing structure, and completely insulated and reclad them with an insulated render system. Unexpected issues were found such as concealed rotten timbers, which we replaced, and rebuilt some of the existing walls. New windows and doors were installed, with new services throughout. We specified Cool Phase Units to all classrooms, which provide low energy mechanical cooling using phase change material. A platform lift was installed for accessibility.
Landscaping is also a key feature, and we have maximised existing play space, including leveling out a steep drop towards the Barry Road side of the school, and creating a dedicated playspace for Reception classes. Reception classrooms now open out onto their own playspace, with a canopy for covered outdoor play. As visitors come into the school and along the new entranceway, attractive new planting and coloured leaf patterns show the route into the school.
Architype has brought the existing buildings together with intelligent new build and remodeling to improve the whole site connectivity and circulation, and have given a fresh identity, with splashes of colour and an exciting new materials palette.

Architype Team
Ian Hayton
Laura Hughes
Richard Asbury
Robin Hillier
Project Partners
Main Contractor

Mansell Construction

Structural Engineer

Built Engineers

Services Engineer

Crofton Design

Landscape Architect

Livingston Eyre Associates

Quantity Surveyor

Gordon Hutchinson Chartered Quantity Surveyors

Artist

Alison Hand