St. Michael's Hospice
St. Michael's Hospice
Project Outline
The recently completed St. Michael's Hospice in Hereford is a charitable organisation that offers palliative care in an inpatients and outpatients capacity to the local community, county and beyond. We were appointed for the project based on our enthusiasm, passion for good design, local understanding of the area and ability to listen to the client and building users requirements, succeeding others who brought extensive experience of Hospice and Palliative Care design and delivery.
Brief Requirements
Working alongside a client group with a strong vision, it was soon established that the following were fundamental requirements to the success of this development;
A welcoming new entrance zone, including café, retail, children's areas and chapel.
Creation of new inpatient wing providing 20 single en-suite bedrooms in five 4-bed social clusters, including provision for bariatric care.
Sensitive treatment of bereavement suite (inc. mortuary).
Expanded day hospice and inpatient facilities.
A new range of Integrated Services, inc. quiet rooms, group meeting areas and therapy facilities.
Improved staff rest/changing facilities and administrative accommodation.
A dedicated educational facility to maximise potential of specialist in-house and external training and research in the field.
Timeframe

On Site Jun '13 / Completed Jun '16

Gross Internal Floor Area

5,130 sqm

Construction Type

Timber Frame

Costs

Total / £11,000,000

Rationale
We have brought a fresh approach, with all plans, concepts, spatial relationships and functionality being unique and bespoke to the hospice requirements; developed through in-depth research and care to get it right.
We worked closely with the client team, nursing and maintenance staff, patients and their family members and friends, to develop a key understanding of how the new facility would run most effectively. The project converts the existing 16-bed ward-orientated inpatient hospice into 20 single bedroom ensuite units grouped into 5 'clusters' around shared social spaces.
The concept enables an optimum balance between interaction/activity and privacy/dignity (with individual control for each patient), whilst acknowledging the importance of discrete observation and convenience/practicalities for nursing staff. The inpatients unit offers assessment, symptom control, rehabilitation and terminal care. The current existing build is being renovated into a day hospice, where patients are referred to by palliative care professionals such as the Community Macmillan Nurses, GP's or hospital consultants. Medical, social care, spiritual, complementary therapy, Lymphodema and psychology treatment and advice is available during these sessions and all have been accommodated within the re-design of the spaces.

Project Outcome
Alongside Churchman Landscape Architects, we have worked collaboratively with the hospice staff, patients and relatives, developing a revolutionary approach to hospice design. Compliant with Best Practice Healthcare Design Guidelines, the design successfully departs from the common clinical appearance to create a warm and homely atmosphere without compromising infection control.
On arrival at the main entrance area you are greeted with views out towards the beautiful landscape, developing an immediate connection between the internal and external spaces - a feature prominent throughout the building. A central focus of the inpatient wing is the multifunctional 'street' - a central double height circulation space, flooded by light from the continuous roof glazing. It offers a variety of spaces from discreet seating areas, break-out areas and conveniently positioned nurse stations. 5 semi-private, social 'cluster' areas are arranged off this, intentionally acting as a transition space towards the 4 private bedrooms. Each 'cluster' offers a real communal feel, with patients and family members having the ability to congregate, eat, relax and socialise in a light, vibrant and bright atmosphere.
There is a flexible relationship between the individual en-suite bedrooms and cluster spaces. Patients feel a part of the clusters from their private rooms through their fully glazed bedroom doors. This connection can be easily controlled using the doors and interstitial blinds to offer peace, quiet and privacy when desired.
Outside, the landscape design inverts that of the building, with private gardens immediately fronting the bedroom. Progressively this turns to semi-private and more public gardens offering access to all within the hospice grounds. Rainwater is channeled through streams and rills to act as therapeutic water features, offering sound and visual animation, to help soothe and calm. Plants and hedgerows, native to Herefordshire, bloom and flower at differing times, keeping the landscape active all year round. In the distance, the landscape becomes wilder, offering a varied landscape with different trails and routes through the site for people to use.

Adjacency diagram showing the cluster space in relation to the 4 bedrooms, creating an optimum balance of interaction for patients.
Inpatient cluster concept has been developed to allow individual bedrooms with en-suites to replace the multi bed wards. There are 5 clusters, each consisting of 4 bedrooms, with a shared lounge hub space that all bedrooms look out on to if desired. Each bedroom also has an external view out to the landscape as does the lounge hub space. This arrangement enables patients to have control over the degree of privacy and interaction with other patients, which brings together the benefits of the sense of community within a shared ward while providing a much higher degree of privacy that a corridor arrangement would not allow.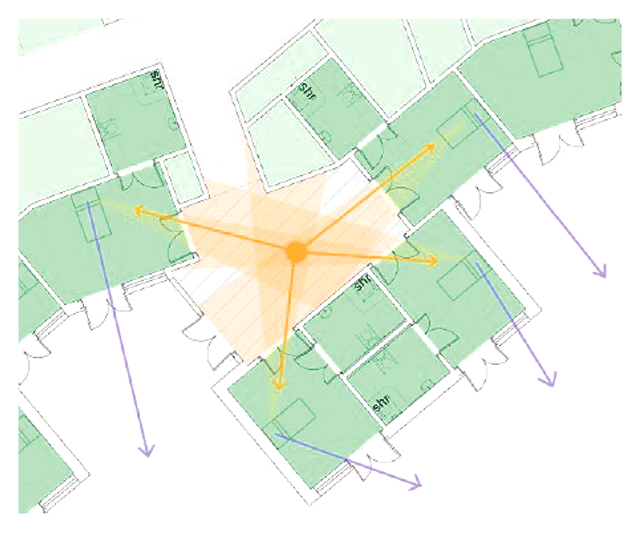 Natural Materials
The proposed palette of materials is of high quality 'natural' materials, specified for their robustness and ability to weather in a considered way; to harmoniously sit within the surrounding landscape. The distribution of the materials over the new building reflects its form and function; the 2 storey block and main corridor are clad in cedar, the clusters plugging into the cedar elements are finished in lime render, and the inpatient rooms attached to the clusters are finished in Douglas Fir boarding.
The diagrams illustrate the rationale and pattern of natural materials on the building to create an attractive finish and delightful appearance, meeting the client groups' aspirations for a natural and sustainable appearance, that is reflective of the Herefordshire landscape.



Architype Team
Karyn Simpson
Rosie Evered
Sharon Edgar
Project Partners
Contractor

Speller Metcalfe

Cost Consultant

Osbournes Ltd

Landscape Architects

Churchmans

Structural Engineers

Integral Engineering Design

M&E Engineers

Couch Perry & Wilkes LLP

Photography

Dennis Gilbert
Accolades
2017 RIBA West Midlands Regional Award Winner