Staunton-on-Wye Endowed Primary School
Staunton-on-Wye Endowed Primary School
Project Outline
The Architype designed school and pre-school for Staunton-on-Wye Endowed Primary School in West Herefordshire reflects the eco-friendly ethos of the school community. The Voluntary Aided School with 70 pupils in 3 classes, and a community run pre-school, has a very strong and existing 'Eco Ethos', where sustainability is at the heart of the teaching, learning and is well embedded within their curriculum.
The building design reflects the eco-friendly ethos of the school community, which was communicated to Architype through the successful consultation process and translated into a built form.
Timeframe

Completion / Oct. '10

Gross Internal/External Floor Area

811 sqm

Construction Type

Timber Frame

Costs

Total / £1,800,000
Consultation
The involvement of the teachers, pupils and community in planning their new school helped to create a building that truly reflected their need for a safe and intimate environment that ultimately was sustainable.
The location, orientation, construction method and material selection met the design brief by providing:
A secure and welcoming entrance.
A simple plan allowing for close surveillance of children.
A building section that maximises on natural day light and allows a natural, cross-ventilated air flow.
Eco-Features inclusive of a green roof, super-insulated walls and a bio-mass boiler.
Flexible spaces for multi-use purposes.
Direct links to outdoor spaces.
A building that is a precedence of sustainability.


Design and Construction Details
It was essential that the design and construction of the new school facilities were synonymous with their values. The curvilinear form the building, it's orientation, position, form and plan all correspond and respond strongly to the site.
The building is constructed from a simple and robust palette of natural materials, including:
local stone, timber cladding, timber windows & doors, green roofs externally.
timber screens, natural linoleum, and organic paints and stains, internally.
These materials along with good day lighting and ventilation help create a healthy, vibrant and humane environment that supports and enhances teaching and learning. The materials, detailing and language of the architecture delivers a contemporary building, which is designed specifically for its purpose and to comfortably sit within the landscape.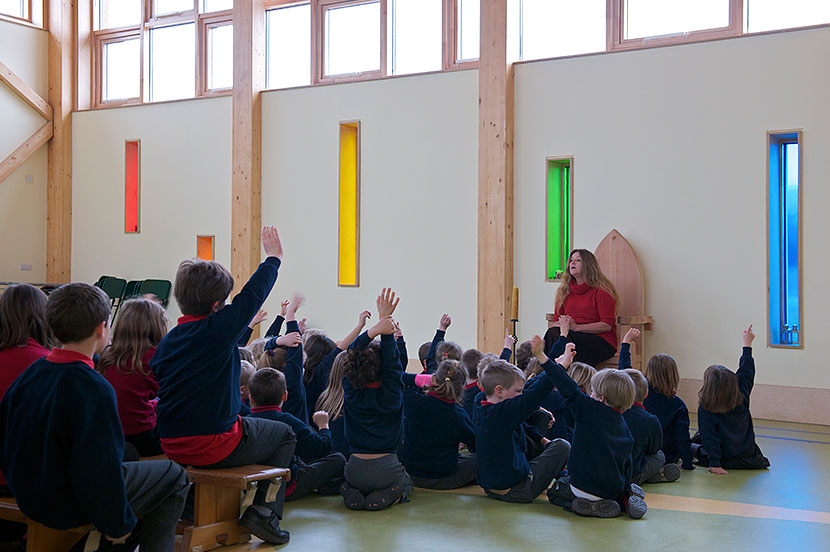 The roofs have generous overhangs which link with the local vernacular architecture and give the building an open and welcoming feeling.
Architype worked closely with the project M&E engineers (Ernest Griffiths) to develop the plan and section of the building to control heat gains and losses. The design achieves good day lighting levels throughout the building whilst minimising heat gains. Overheating is controlled by the angle and location of the glazing and by the roof overhang on the South.
As standard practice for Architype, the external fabric of the building is highly insulated with good air-tightness and minimal cold bridging to reduce heat losses and therefore minimise the heat input required to create a comfortable low energy building.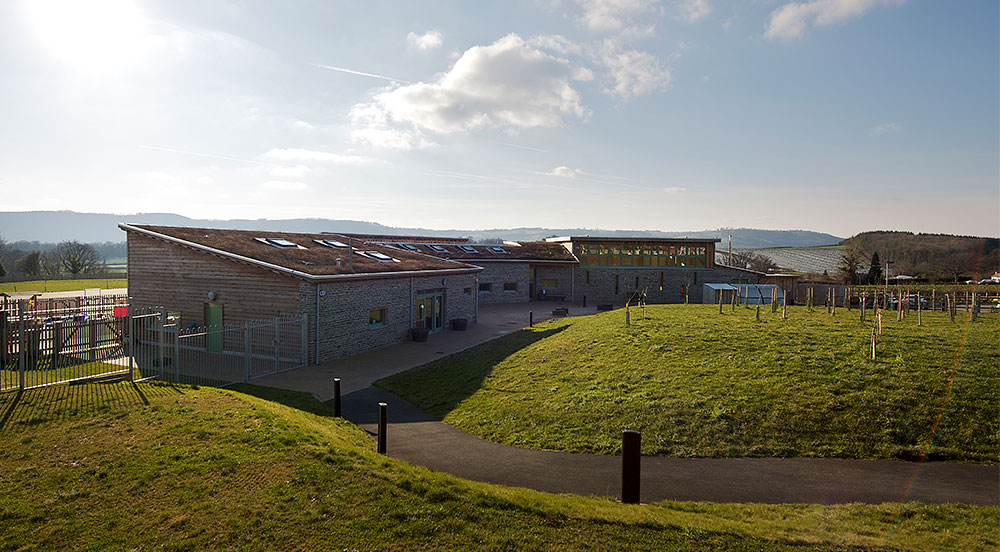 Project Partners
Main Contractor

Thomas Vale Construction PLC

Quantity Surveyors

Smith Thomas Consult

M&E Engineers

Ernest Griffiths

Acoustic Consultant

Mach Acoustics

Landscape Architect

Hannah Genders Landscape and Planting Design
Related Material
Accolades
2012 Shortlist for BCSE Best of British Schools Awards