Taplow Court
SGI-UK (Soka Gakkai UK)
Brief
Architype was commissioned to masterplan and design new facilities for Taplow Court to provide a training and conference centre, and a venue for the performing arts, for SGI-UK, a lay Buddhist Organisation. The first phase provided a 500 seat 'Butsuma', or chanting hall, which is used for performances and conferences, together with seminar rooms, exhibition spaces and a shop. Later phases provided residential course study bedrooms for 80 people, a small visitors' centre, estate management facilities and a full landscape scheme.
Timeframe

On Site / July '99
Completion / May '00

Gross Internal Floor Area

1,700 sqm

Construction Type

Timber Frame

Costs

Total / £2,250,000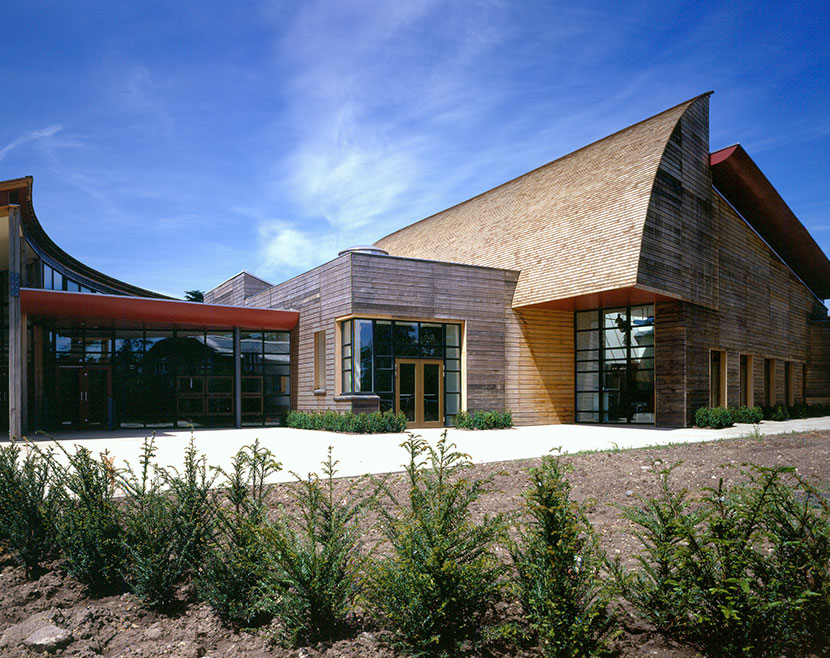 Rationale
In 1996 SGI-UK formed a building committee to consider how Taplow Court might develop its role as a training and conference centre, and as a venue for the performing arts. The initial brief was to be examined during a membership wide consultation process. A masterplan for the whole site was to be formulated, within which a phased development could be planned.
Architype was keen to represent and reflect the particular philosophy of SGI-UK within the design, so the building would become an expression of the values of the movement. This included a strong 'green' agenda to show a commitment to creating a sustainable future, and a consultation process that would create real ownership amongst the whole membership.

Consultation Process
Our extensive consultation process aimed to create a cycle of awareness, involvement and ownership amongst the membership, and actively involved all 6000 SGI members, alongside bodies such as English Heritage and the Garden History Society. A series of events was held including Focus Groups; Vision Conference; Design Conference; and Public Exhibition. Ideas were fed into the design process, and we presented our concepts via an imaginative narrative walkthrough.
The Vision Conference activities were structured around the output from the Focus Groups. Six themes were agreed and represented the first expressions of how SGI-UK's values might translate into built form. Members then participated in brainstorming sessions to explore and refine themes, which were:
Enlivening the spirit vision – explore ways in which the new buildings can express and enliven the spirit of SGI-UK and its members.
Courses, conferences, and organisation vision – how to support the smooth running of Taplow court and events, provide for visitors' needs, and enhance the experience of members attending courses.
Culture and communication vision – how the building can promote culture and enhance the communication of SGI-UK's philosophy and ideas.
Energy and environment vision – explore ideas based on the Buddhist concept of Esho Funi (principle of oneness of life and environment) and how to achieve environmental sustainability.
People vision – create a building which positively supports and enhances people's needs, skills, and activities.
Landscape vision – develop ideas for the relationship between the building, the site, and the wider landscape, thinking about water, trees, plants, and wildlife.
Members also participated in ideas sessions about what activities could be included in the new building, and they then considered priorities and phasing. All this invaluable output was analysed and fed into Architype's design process, and a report was distributed to members before the next Design Conference. This involved a presentation of Architype's Draft Masterplan, and initial ideas for individual buildings. We used an imaginative narrative walkthrough, to take members on a journey through the development, imaginatively experiencing the form and ambience of the spaces. Members then critically evaluated the emerging design proposals which followed through into the detailed design work.
The Public Exhibition was the final participatory event at which comments were received from members, the local community, and other interested parties.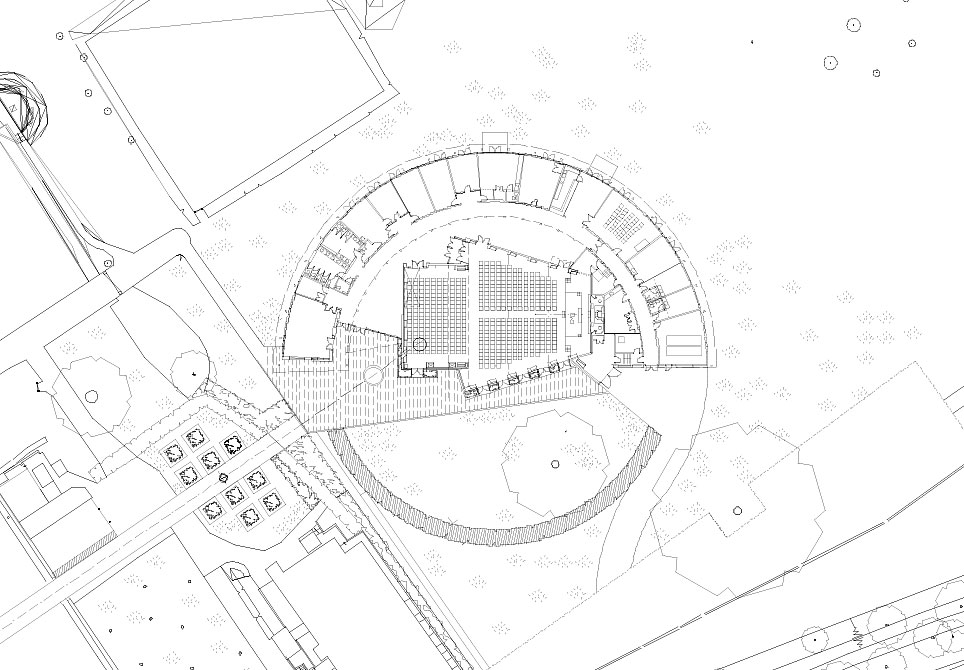 Specific features
Our approach to the site was one of minimal demolition and maximum use of existing services, and recycling of waste materials.
Building materials included green oak cladding; cedar shingles; recycled aluminium sheet; turf; wool/hemp mix insulation; recycled newspaper insulation; non-PVC wiring and cabling.
Natural finishes used include wood, natural rubber and linoleum flooring, and non solvent based paints and wood stains.
Construction methods included minimal foundations; high levels of insulation; and high specification timber windows.
Energy efficiency measures included adiabatic ventilation and air cooling; low energy lighting; grey water recycling in toilets; night cooling; and solar heating for hot water.
Process
A particular challenge was the complexity of the planning issues surrounding the site, including the new project site being on Green Belt land, partly in a Conservation Area involving Grade II Listed buildings and an Historic Park, near a Scheduled Ancient Monument, and all within grounds listed as an Area of Attractive Landscape!

Results
We designed the buildings to express SGI's message as a movement for culture, education and peace, and to be inspiring and uplifting. We created a practical and flexible functionality, alongside a strong emphasis on design for the senses and sensitivity towards the environment.
The completed building is designed with high levels of insulation and with heavy thermal mass to reduce energy consumption for both heating and cooling. The main hall space has adiabatic ventilation and air cooling, with heat exchange on the extracted air. Ancillary spaces are all naturally ventilated by means of opening windows. Night purging is used to cool the entire building in warm weather.
Natural materials were carefully specified, including home grown green oak cladding and structural elements, cedar shingles and recycled aluminium sheet roofing, recycled newspaper insulation, natural rubber flooring and wool carpets, organic paints and stains, and non-PVC wiring and cabling.
All spaces are full of natural light and all artificial light is low energy. Grey water is recycled to flush toilets and irrigate areas of green roofs. Taplow Court has rich layers of sacred and secular history, and we designed the new development to integrate and enhance these special landscape qualities.
Project Partners
Quantity Surveyor

Turner & Townsend

Structural Engineer

Atelier One

Environmental Engineer

Atelier Ten

Landscape Architect

Coe Design

Acoustic Consultant

Paul Gilleron Associates