The Rainbow School
Beyond Autism
Brief
Architype was commissioned by Beyond Autism to develop a new centre of excellence for children with autistic spectrum disorders within an existing 1870's Victorian Villa. Beyond Autism provides special needs education for children with autistic spectrum disorders.
Beyond Autism was founded in 2000 by parents of children with autism. The Rainbow School offers its pupils a structured programme of intensive intervention based on the principles of Applied Behaviour Analysis (ABA) and Verbal Behaviour (VB).
In 2007, the school was judged outstanding by OFSTED and is vastly oversubscribed. The Rainbow School wanted to meet this demand by creating a larger school to educate an additional 48 young people with ASD (Austistic Spectrum Disorder), and increase its range of services.
Timeframe

Start / Jul. '09
On Site / Feb. '10
First Phase Completion / Aug. '10

Gross Internal Floor Area

First Phase / 740 sqm
Second Phase / 120 sqm

Construction Type

Refurbishment and Timber Cladding onto an Existing Concrete Frame.
New Build – Brick, Blockwork, and Timber Cladding.

Costs

Total / £2,000,000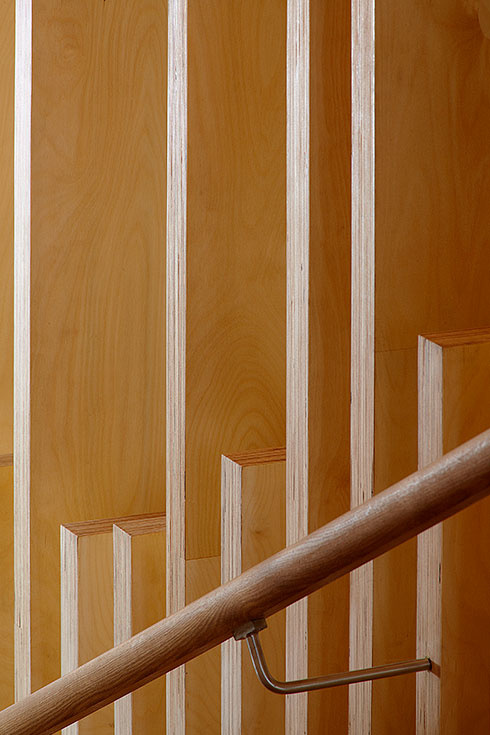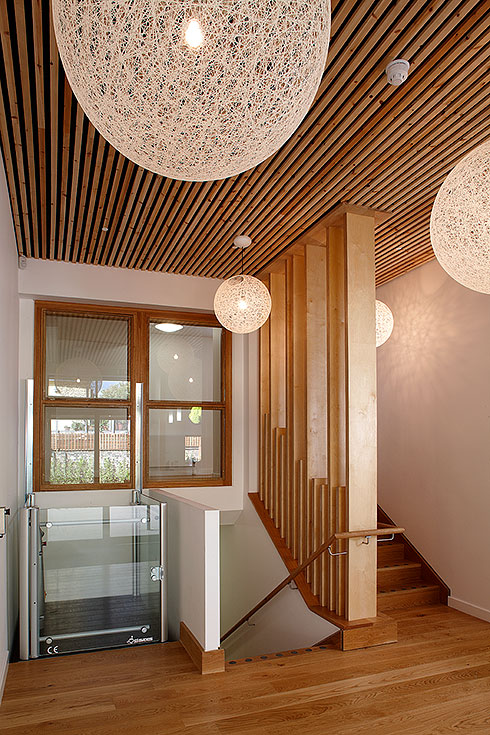 Process
Architype researched in depth the particular requirements of ASD and the Applied Behaviour Analysis (ABA) teaching methods to understand how these could work within the proposed building. A focused period of consultation and observation into how the school, users and curriculum worked was undertaken. We wanted the spaces and buildings to be sensitive to the children and also supportive for the staff so it was important to understand how a child with ASD experiences the world, the school day and how they interact with the staff. We wanted the building to be something that reflected the progressive and caring environment that Beyond Autism provides for the children and families.

Design Response
The new Rainbow School provides state of the art teaching facilities for young people with autism up to the age of 17. Architype refurbished the existing Villa to provide a fully equipped food, design and technology area and Science Lab. A 1960s extension to the Villa was completely transformed by constructing an expressive and tactile new mixed timber façade that reflects the progressive approach of the charity and creates new teaching and staff rooms within. Careful design of services and building fabric vastly improves the environmental performance and ecological footprint of all the existing buildings as well as the biodiversity of the site as a whole.
The existing buildings were robust but in a very poor state of repair. We remodeled the interior spaces to make them suitable as teaching spaces. This included specialist acoustic treatment, lighting and surface finishes. The existing levels posed serious issues to circulation and access so the internal circulation was adapted to allow disabled access to the ground floor and better access to all levels for staff and pupils. Where they exist, period features were retained, including the existing staircase whose non-compliant banister was made safe by inserting a high-tension wire feature.
The buildings services were totally renewed which included a new efficient heating and hot water system (supplemented by solar thermal), lighting and MVHR to the basement teaching areas. The Villa's fabric was improved by constructing a new breathable insulated roof and new secondary glazing.
The Villa had a 1960s annex to the rear. It was decided to reuse this building by stripping it back to its sound concrete frame and super-insulate it with a breathable wall construction. This building contains the main entrance and reception. We wanted to break down the mass of the existing concrete frame to make it much more inviting as a façade while also reflecting the use of the rooms behind. This was done by creating a series of panels at alternating heights that were clad in differing timbers and build up; Cedar shingles, Douglas Fir overlap, Scottish Larch board on board and Sweet Chestnut shiplap.
The soft warm timber cladding of the elevation creates a tactile and expressive façade that contrasts with the adjacent stock brick walls of the Villa and blue engineering brick plinth. Large composite aluminium windows and roof lights provide high levels of natural light to the teaching spaces within. Random ocular windows add visual interest and create fun cills internally for children to sit in. A biodiverse green roof completes the refurbishment of the annex. A timber and glass canopy highlights the entrance and directs visitors into the secure reception lobby with its warm timber features, finishes and lighting. Internally the finishes palette is restricted to warm shades of white and timber to create a low stimulus and robust environment.

Project Partners
Main Contractor

AJ Contracts Ltd

Structural Engineer

Engineering Design and Analysis (EDA)

Service Engineers

Elementa Consulting

Quantity Surveyor

Matrix Consult

Landscape Architect

Landscape Perspective Ltd

Acoustics

Acoustic Consultants Ltd