Twyford Barn
Duchy of Cornwall
Sustainable Building of the Year
Twyford Barn is an interpretation of Architype, amalgamating our design successes into two adjacent farm buildings, and demonstrating our progressive understanding of delivering sustainability.
The multi–award winning Twyford Barn is evidence of our passion for sustainability; in essence we practice what we preach!
Timeframe

On Site / Nov. '04
Completion / May '06

Gross Internal Floor Area

220 sqm

Construction Type

Timber Frame added to existing stonework

Costs

Total / £446,000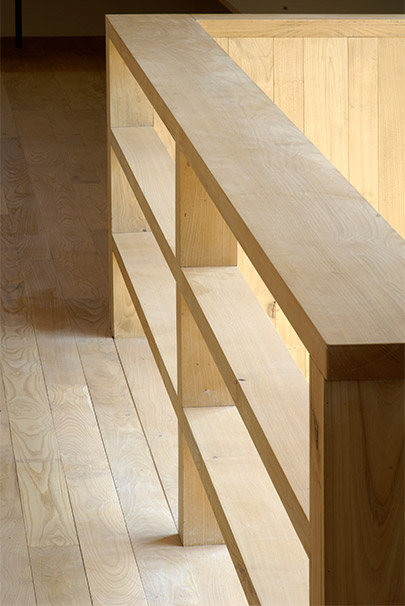 When we expanded beyond the capacity of our old office in Cinderford, Gloucestershire, we were determined that our new office, relocated to Hereford, would be a model of sustainable workplace practice and contemporary design. We required a property that could accommodate an expanding office and that was capable of reaching the firm's extremely high environmental objectives.
After a hunt lasting several years, the Hereford office moved into a barn and outbuilding at Upper Twyford in 2006; previously derelict but completely restored and redeveloped by us.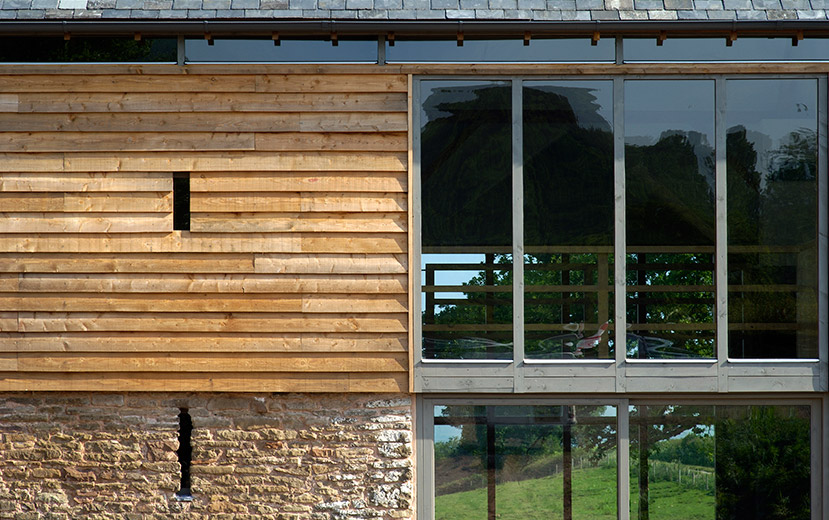 Cut into the hillside and surrounded by rolling, wooded countryside, the buildings are just visible from the road. They sit comfortably within the surrounding landscape despite the contemporary conversion.
The two buildings are located on an estate owned by the Duchy of Cornwall. At the time, Twyford Barn was one of several projects under way as part of the Duchy's rural regeneration programme for their estates, with the primary aim of providing workplace opportunities in the countryside.
A deal was negotiated for Architype to renovate the Barn and The Cowshed on behalf of the Duchy, with themselves as the in-coming tenant. We were employed as the architects giving us the opportunity to design our own office.
We started with an appreciation of the history of the area, the qualities of the landscape and the sites' strong sense of place. We added to this our own objectives to create a workplace that was an exemplar of sustainable contemporary design, and an inspirational work place. It is now a well-loved studio beautifully daylit, with exceptional views across fields and woodlands, naturally ventilated, heated by biomass, and with ample space for working, meeting and socialising.
The building is designed to a high ecological specification, using 100% locally sourced timber, natural organic finishes, and recycled newspaper insulation. Particular attention was given to minimising water consumption. Food for office lunches is being grown on the land around the building, and an apple and pear orchard partly surround the building.

Orientation and the use of daylight and sunlight for light and solar gain.
Use of 'breathing' timber construction.
Use of thermal mass.
Use of high insulation levels.
Minimise cold bridging.
High performance windows and doors.
A range of options for natural ventilation.
Zero energy passive night time cooling.
Biomass boiler for heating and hot water.
Re-use of original building materials.
Use of UK sourced timber.
Adoption of state of the art water efficiency measures and airflush toilet system.
Natural paints and stains.
Innovative low energy purpose made light fittings.
Landscaping to extend local biodiversity.
Twyford Barn has been operating for 7 years demonstrating that:
Building design and performance can significantly contribute to achieving and maintaining energy savings.
An holistic approach to sustainable business operation is fun, successful and replicable.
Architype Team
Howard Meadowcroft
Leah Dempsey
Project Partners
Structural Engineer

Roger Gell

Contractor

Mike Whitfield Construction Ltd.

Water & Energy Consultant

Elemental Solutions
Related Material
Accolades
RIBA 2007 Sustainable Building of the Year
RIBA 2007 Regional West Midlands
RIBA 2007 English Partnerships Sustainability