Agar Grove
London Borough of Camden
Project Outline
Architype are delivery and Passivhaus architect on the UK's largest Passivhaus scheme, originally design by Hawkins\Brown. The first phase of this 493 home scheme, offers 38 socially rented homes to existing Agar Grove estate tenants, enabling the next phase of development to move ahead.
Agar Grove is part of the Council's Community Investment Programme and aims to promote a 'fabric-first' approach to increase energy performance. The new homes are built to achieve Passivhaus certification, significantly reducing heating bills by 70-90% compared with conventional homes.
A large majority of the apartments are dual aspect with bedrooms elevated above ground floor level and living spaces benefitting from the South-facing aspect. A balcony running the full width of the façade offers panoramic views of central London from the mid-levels and above.
Timeframe

On Site / Mar. '16
Completion / Mar. '18

Gross Internal Floor Area

3,590 sqm

Construction Type

Concrete Frame

Costs

Total / £9,600,000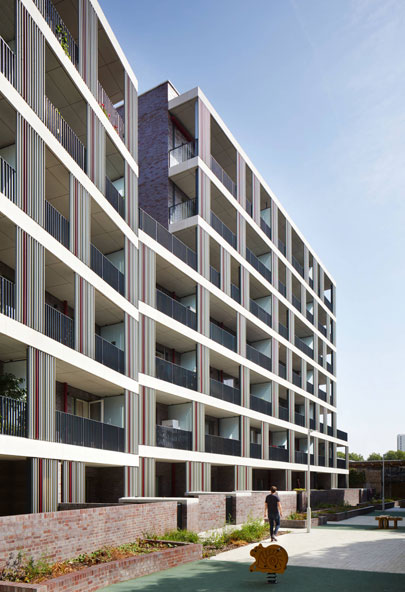 A Requirement for Regeneration
Located North East of Camden Town on a site adjacent to two railway lines, the original Modernist estate dates from 1966. The site comprised 249 social-rented homes arranged in a series of low-rise blocks clustered around an eighteen-storey tower, served by its own shop and café. The estate's layout and housing stock had become inefficient, outdated and disconnected from the wider city.
The new master plan is based upon the traditional concept of 'streets and squares' with an emphasis on creating liveable spaces between homes and improving pedestrian routes across the site. The overarching idea is to create a place where people want to live, and one that contributes positively to the surrounding area. A range of house types has been introduced including family terrace housing and maisonettes with gardens, as well as lateral flats with balconies.

Technical Delivery
The technical delivery of Agar Grove has presented many challenges.
Retaining and strengthening the client and contractors relationships has been an important part of delivering a successful technical service. As delivery architect for Hill Partnerships, our objective has been to simplify this complex and bespoke design that we have adopted, and to make it fulfil its brief as a Passivhaus development. This has required a number of innovative processes that break ground for Passivhaus construction, and a number of important lessons learned to share with our industry. Ultimately, what we have offered in technical delivery is foresight; anticipating and pre-empt potential site interface issues with achieving Passivhaus. This is achieved in a collaborative, no blame culture approach before they disrupt the programme and end up accumulating unforeseen costs.
Architype are currently working on Phase 1b of the Agar Grove estate. Currently on site, the second phase will create a further 57 homes.
Educational Studies/Post-Project Review
Results collected from temperature and humidity monitors inside flats show the building providing comfortable living conditions in the cold periods of winter 2018. We continue to monitor data collected by the council regarding performance.
Architype Team
Elrond Burrell
Iona Campbell
Project Partners
Contractor

Hill Partnerships

Architects

Hawkins\Brown

Masterplan Architects

Mae

Landscape Architects

Grant Associates

Services Engineer

Max Forham

Structural Engineer

Peter Brett Associates
Accolades
The Mayor's Award for Sustainable and Environmental Planning
The Mayor's Award for Good Growth