Working With Us
500+ Projects Spanning 3 Decades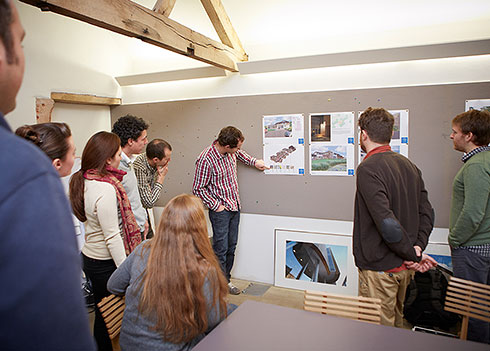 Who Are Architype?
Architype is a vibrant and dynamic architectural practice. Our purpose is to design life enhancing, genuinely sustainable architecture.
We create inspiring and optimistic places in which people can live, work and relax; in buildings that perform as they should; delivered through an enjoyable, trouble free, design and construction process.
We are 60 highly motivated people who believe in the power and potential of architecture to achieve a more socially, environmentally and economically sustainable future, for our clients and wider society.
What Is Our Approach?
As the UK's leading architects for sustainable buildings, we design with an energy and commitment that changes lives for the better, by creating places and spaces that have a positive impact on the people who use them, and on the immediate and wider environment.
Our remit is broad and always exciting. Whether we are working on a private residence or a factory, a hospice or a school or university, we know we are influencing people's lives and that the buildings we design will be used for many years to come. It's our conviction that we should push at boundaries, that there is a better way. It's our intention that clients are liberated and empowered by the process of working with us and by the buildings we deliver for them.
Wherever possible, we carry out a period of thorough consultation, an immersion into the issues and needs of everyone who will occupy the building. We involve them in the process of describing their ambition and developing a plan that is informed by everyone's contributions. This ensures we deliver the building they have a right to, a place they will be proud of.
We love what we do - the profound sense of engagement that comes with each new project, the union of great design and credible sustainability, the pleasure we can bring, and the ripple effect each completed building has on society.
We believe in sharing knowledge and experience, and enjoy the positive impact we can achieve by providing specialist consultancy advice to other architects, engineers, clients and contractors.

Architype's approach brings direct benefits to our clients and the contractors we work with.
We focus relentlessly on eliminating unnecessary complexity in design to create elegantly simple architecture.
We ask what can be designed out to make a building work better, not what technology we need to add in to fix a problem that shouldn't be there.
We apply integrated design thinking using BIM (Building Information Modeling) to pre-emptively ensure every aspect of the building is fully co-ordinated at design stage rather than left to resolve on site.
For our clients this ensures a smooth process, and enables us to achieve buildings of a higher quality that cost less to build, and subsequently cost significantly less in use for energy consumption and maintenance.
For the contractors we collaborate with, or who employ us directly, our buildings are more straightforward and economic to build, because we understand construction, create simple robust detailing, offer responsive support, and provide timely, clear and comprehensive information.
For the consultants with whom we work, our design process is enjoyable, engaging and creative, but also demanding, because we expect the whole team to achieve the highest possible standard, within the client's budget and timescale.
For the partners we provide specialist consultancy advice to, we bring the benefit of unrivalled expertise in innovation and fresh thinking, underpinned by the practical experience of delivering successful sustainable projects over 30 years.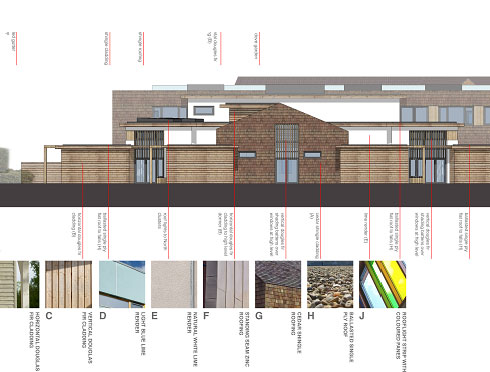 We aim to achieve tangible economic and environmental benefits to our clients, contractors, buildings users, and society.
Every element of design matters to us. Every detail of a building. Every piece of a drawing package. Every line of data in a schedule. Everything. And it doesn't matter just some of the time. It matters all of the time. That's how we do things at Architype.
Instead of seeing design as a linear process in a series of separate projects, for Architype it is an integrated and iterative process across all projects, underpinned by constant research and innovation, both within our practice and across our wider collaborations with clients, contractors and consultants:
By collaborating with, and supporting clients and users throughout the process of design and during the experience of occupation, we ensure our designs deliver and our buildings work.
By consulting with building users and local communities, we gain an understanding of people's ideas, aspirations and local context, and develop solutions which people have a real engagement with.
By actively learning from the constant monitoring of our buildings, we bridge the gap between design and reality, and ensure our buildings perform more efficiently and more cost effectively.
By integrating environmental performance, buildability, functionality in use, and the quality of architecture, we create optimistic buildings that uplift the soul, are cost effective to build, practical in use and perform as predicted throughout their life, so delivering good social and environmental benefits, and financial return for everyone involved.
By cultivating an enjoyable, stimulating and collaborative working environment, with continuous design debate at its heart, we enhance individual and practice creativity, and stimulate new and innovative thinking.

At Architype, we care about how people find the experience of occupying and using our buildings, and we want to ensure our buildings actually perform as they should.
It is an endemic problem in the building industry that designers and contractors have no ongoing interest in building performance beyond dealing with contractual defects, which leaves users to cope with the impact of any issues.
We therefore stay in touch after completion – offering users guidance and support to enable them to use the building effectively and efficiently. This takes the form of simple to follow user guides, and regular visits to gain feedback, and to provide training and advice.
We also undertake performance monitoring, of temperature, humidity and air quality, and of energy and water consumption, in order to check if the building is performing as it should.
Every building is a one-off bespoke prototype, and there will inevitably be some teething problems. We do not claim that our buildings will be perfect, but by using the combination of user feedback and direct monitoring, we aim to identify and then troubleshoot any minor problems that may arise quickly and economically.
For our post-build service to be effective, we start working towards it from initial design, and continue through each design and construction stage, using the BSRIA 'Soft Landings' framework, to make sure the right people are involved, correct design decisions are made, appropriate systems are specified, and effective procedures are agreed.
We apply the experience and knowledge gained by monitoring our previous buildings to improve the design and performance of our future buildings.
We are committed to improving our practice through this continuous improvement cycle, so that by 2020 we will be able to offer our clients a guarantee of the performance on our buildings.

What Services Do We Offer?
We offer a wide range of services, and can adapt the scope to suit each project and client.
Architectural design services from inception and feasibility stages through detailed design, construction information, site supervision, to completion and post occupancy.
Full design team leadership and overall project management.
A fully integrated 'one stop shop' appointment covering all design team disciplines, in partnership with our trusted team of consultant partners.
Client advisor services
Integrated Passivhaus design and PHPP analysis on our own projects.
Passivhaus design review, advice and analysis on other architects' projects from design through to certification.
Expert Consultancy Services – a full range of consultancy services through PERFORM+ including zero and embodied carbon analysis, energy in use, daylight and ventilation modeling, and embodied carbon analysis.
BIM (Building Information Modeling) – offered as part of our own design, and also as a co-ordination service across the entire project and design team.
Post Occupancy Evaluation and Building Performance Monitoring – offered on our own and other buildings.
Soft Landings – a comprehensive service to support clients and building users through the design and construction process, and into the first years of occupation, to enable them to understand and operate their building efficiently and effectively.
Passivhaus housing development – through our partnership with ArchiHaus, an innovative new development company that we have helped to establish.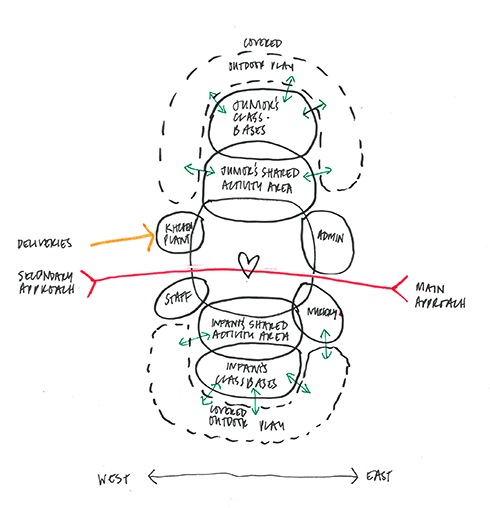 We work for a wide range of clients including national government, public bodies, local authorities, commercial companies, contractors, charities, educational bodies, health trusts, community groups, voluntary organisations, private entities and individuals.
Irrespective of the nature or scale of the client, we provide the same approachable, responsive and professional service.
Since 1984 we have designed over 500 buildings and provided specialist consultancy to many organisations.
We work throughout the UK and abroad, from offices in Hereford, London and Edinburgh, across all sectors, for a broad range of clients, on architectural projects ranging in scale from £200k to £50+million, as well as a broad range of specialist consultancy services.
Whilst the majority of our work has been in the education and housing sectors, we are successfully delivering a wide range and type of projects.
Learning – from nurseries to universities, and mainstream schools to special facilities.
Living – from one-off houses to major new housing developments, and student accommodation to unique co-housing and self-build projects.
Work – including offices, community buildings and factories.
Care – including medical centres, supported housing schemes and a hospice.
Leisure – including visitor, community, exhibition, performance and sports centres and hotels.
Specialist Uses – including religious buildings, an archive facility and a university research centre.
Master Plans – including strategic site developments and whole estate reviews.
Passivhaus – having delivered the UK's first Passivhaus schools, we are now pioneering its introduction across a range of buildings in the housing, commercial, education and leisure sectors.
Consultancy – providing specialist services in Passivhaus, user consultation, embodied carbon analysis and BIM.
We collaborate with a wide range of expert partners in the design and delivery of our projects, to enable us to achieve the high standards to which we aspire.
We engage with a broad team of consultants who share our ethos and understand our approach, including: structural engineers, mechanical and services engineers, energy and Passivhaus consultants, landscape architects, project managers and cost consultants. Partners include Price and Myers, E3 Consulting Engineers, Smith Thomas Consult, Skelly and Couch, BDP, Elemental Solutions, Synergy, Churchmans, Chapman BDSP, BUILT, Sweett Group, Gardner and Theobold, WSP | Parsons Brinckerhoff, Plincke Landscape and Coe Landscape Architecture.
We can recommend consultants to our clients for appointment by them, or appoint them directly ourselves as part of a 'one stop shop' appointment to the client.
We are employed by a wide range of contractors to work directly for them on design and building projects, or to provide specialist consultancy advice, including many well known regional and national companies including Kier Construction, Lend Lease, Morgan Sindall, Bouygues, Osborne, Speller Metcalfe, and Thomas Vale Construction, Rooff, Neilcott, Balfour Beatty and Willmott Dixon.
We are active members of a number of leading industry organisations, working with them to research and promote new ideas, and share good practice – including the UK Passivhaus Trust, the Association of Environmentally Conscious Building (AECB), the UK Green Building Council, TRADA, BSRIA, the Alliance of Sustainable Building Products (ASBP), and the RIBA.
We collaborate with a number of leading universities and research organisations on research projects and post occupancy building performance monitoring, including Oxford Brookes and Coventry Universities, the University of East Anglia, the Adapt Group, BRE, and Wood Knowledge Wales.
What Is Sustainable Design?
We challenge the conventional view that sustainable design is boring, complex and expensive. Instead, we deliver beautiful and elegant buildings that are economic to build and easy to use.
Every single building we do has sustainability integrated into it from the very earliest concepts, through design, and into construction.
We understand the dynamic balance of building, site, climate, and social context, and capture the positive climatic conditions of daylight, ventilation, and passive solar gain.
Every Architype design is rigorously assessed to maximise building performance through orientation, building fabric, materials, services strategy, and simple, elegant detailing.
The impact of every building is minimised over its whole life cycle, by radically reducing the energy consumed and carbon emitted during construction and in use, and by carefully specifying robust, renewable and natural materials.
We monitor how our buildings perform in occupation through our post occupancy research and evaluation, staying with a project to ensure the building users know how to operate it for optimum performance, and to apply the lessons we have learned to improve our future designs.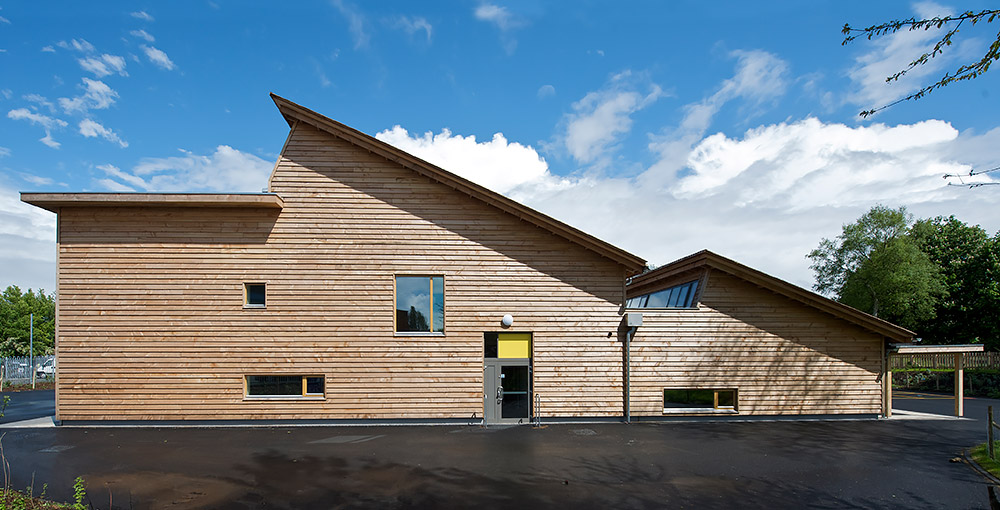 What Is Passivhaus?
Passivhaus is the world's most rigorous energy and comfort standard.
Passivhaus is a quality assurance system backed by a rigorous certification process. Its value rests on the assurance that its performance claims are both credible and reflect a genuine benefit to both the user and the environment, including:
Minimised energy consumption and energy bills.
Avoidance of building defects that can lead to mould growth and building failure.
Excellent standards of thermal comfort and high standards of indoor air quality.
Optimised lifecycle costs.
Architype has adopted Passivhaus as our core approach because it is based on sound building physics, and unlike any other building standard, it has proved its accuracy and performance over a 20 year period of monitoring in a range of building types across Europe.
Passivhaus bridges the all too common performance gap between prediction and reality in the performance of buildings. Passivhaus enables us to directly reduce energy consumption in buildings by design, instead of relying on renewables to merely offset carbon.
We have proved through numerous projects, that with Architype's approach to design, Passivhaus does not need to cost more than conventional construction.



There are a number of explicit technical standards that need to be achieved, including:
Fabric U-values of 0.15 for walls, roof and windows.
Whole unit window and door U-values of 0.8.
N50 airtightness of 0.6 air changes under test at 50 pascals.
Elimination of all thermal bridging (or inclusion of the actual heat losses caused by any thermal bridges not eliminated in the calculations).
An efficient mechanical ventilation system with heat recovery (MVHR) to provide good quality fresh air in cold weather, without the heat loss and draughts caused by natural ventilation.
However, simply following these standards alone is not sufficient to achieve Passivhaus. PHPP (Passivhaus Planning Package) must be used to model and optimise the form, orientation and fabric of the building and demonstrate that:
The thermal heating requirement of the building does not exceed 15kWh/sqm per year.
The overall primary energy of the building does not exceed 120 kWh/sqm per year.
Overheating does not exceed specific targets.
The evidence of design and of the actual construction is provided to an independent certifier, who after a rigorous assessment, will issue Passivhaus Certification only if the building fully complies with the standard.
It is not easy to achieve Passivhaus. We have built up expertise in delivering it over years of experience, and many of our staff have become fully qualified Certified Passivhaus Designers.
Passivhaus is highly energy efficient, economic and healthy. Put simply it is better design and better construction.

What Are Our Credentials?
Bob Hayes and Jonathan Hines cultivated Architype's unique ethos over the last 33 years, and led the practice to its currently successful position as the UK's leading sustainable architectural practice.
Jonathan became managing director in May 2015, when Bob stepped down as a director. Jonathan's skills as an innovative thinker and insightful public speaker, have enabled Architype to stay constantly at the cutting edge of new thinking, with a steady track record of successful buildings delivered to meet our clients' aspirations.
Directors Ben Humphries (London) and Mark Barry (Hereford) joined the board in May 2015. They are both highly experienced architects and managers, and with Jonathan, they manage the overall practice and lead the local management teams in each office, supported by Associate Directors, Mark Lumley, James Todd, Lee Fordham and Steven Rankin.
Bob's skills as a talented manager with an eye for detail and a passion for effective organisation, continue to enhance Architype's service to clients, in his role as a senior consultant.
We have built up a committed team of highly able and talented staff, whose expertise and passion can be seen and experienced in every project, and whose technical competence and professional development is supported by constant training, and involvement in every aspect of the practice.
All our staff are either fully professionally qualified or are talented graduates en route to qualification. Many have gained additional qualifications, including eight staff who have become Certified European Passivhaus Designers.
Our approach and achievements have been widely recognised by our clients and peers – through the feedback they give us, the things they say about us, and the extensive range of awards we have won over many years.
Architype are committed to quality and environmental working standards, as certified by ISO 9001 and ISO 14001.
Selected Accolades
2016, RSAW Sustainability Award, Burry Port Community Primary School
2016, RSAW Regional Award, Burry Port Community Primary School
2016, The Guardian Sustainable Business Awards, Built Environment Winner, The Enterprise Centre
2016, CIBSE Building Performance Awards, Public Use Building of the Year, Wilkinson Primary School
2016, Winner of the BCO, Best Office Building of the Year Award, The Enterprise Centre
2016, Winner of the Building Good Employers Guide
2015, UK Passivhaus Trust Awards, Winner of Large Projects Category, Wilkinson Primary School
2015 & 2016, AJ100 Sustainable Practice of the Year
2015, British Council for Offices, Corporate Workplace Award, The Enterprise Centre
2015, AJ Retrofit Schools Award, Robert Fitzroy Academy
2015, RIBA WM Regional Award,Herefordshire Archive and Record Centre
2013, CIBSE Building Performance Award Project of the Year
2012, UK Passivhaus Award, Non-Domestic, Oak Meadow Primary
2012, RIBA Sustainability Award Bushbury Hill Primary
2012, RIBA WM Regional Award Bushbury Hill Primary
2011, BCSE Best SEN School of the Year Willows Campus
2011, BCSE School Architect of the Year
2011, Building Cut the Carbon Award
2010, Quality in Construction Award Environmental Project of the Year, St. Luke's Primary
2010, Quality in Construction Award Project of the Year, St. Luke's Primary
2010, RIBA Sorrell Foundation Schools Award, St. Luke's Primary School
2009, Ashden Award Sustainable Energy
2007, National RIBA Sustainability Award Twyford Barn
2007, Building Sustainable Architect of the Year